From We to Me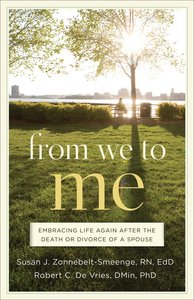 While we don't like to think about it, marriages eventually do come to an end, either with the death of a spouse or tragically through divorce. This "end" of a relationship leaves the other partner alone and facing an uncertain future. Whether widowed or divorced, the feeling and experience of aloneness--moving from being a "we to a me"---is a common one. This latest book from noted grief experts and authors Zonnebelt-Smeenge and De Vries focuses on two of five grief journey tasks--separating oneself and reinvesting fully in one's own life--offering a unique self-help, psychological, and spiritual guide for the process of helping either the widowed or divorced to redefine and reinvest in life.

- Publisher
You May Also Be Interested In
About "From We to Me"
While we don't like to think about it, marriages eventually do come to an end, either with the death of a spouse or tragically through divorce. This "end" of a relationship leaves the other partner alone and facing an uncertain future. Whether widowed or divorced, the feeling and experience of aloneness--moving from being a "we to a me"---is a common one. This latest book from noted grief experts and authors Zonnebelt-Smeenge and De Vries focuses on two of five grief journey tasks--separating oneself and reinvesting fully in one's own life--offering a unique self-help, psychological, and spiritual guide for the process of helping either the widowed or divorced to redefine and reinvest in life.
- Publisher


Meet the Authors
Susan Zonnebelt-Smeenge
Susan J. Zonnebelt-Smeenge (R.N., Ed.D.) is a clinical psychologist at Pine Rest Christian Mental Health Services. Robert C. De Vries (D.Min, Ph.D.) is professor of church education at Calvin Theological Seminary. They live in Grand Rapids, Michigan.