Funeral Sourcebook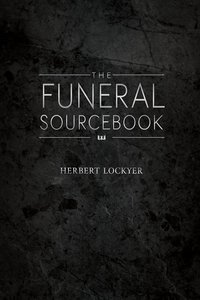 Attending to those in grief and mourning is a critical duty of any member of the clergy. Unfortunately, many church leaders feel poorly equipped to effectively minister to those in their darkest hour. Bible teacher Dr. Herbert Lockyer has provided this comprehensive source book of sermons, Scripture passages, prayers, and poems, as well as proper etiquette and manner, enabling any pastor to better carry the gospel of consolation to the distressed and brokenhearted in their great time of sorrow.

- Publisher
You May Also Be Interested In
About "Funeral Sourcebook"
Attending to those in grief and mourning is a critical duty of any member of the clergy. Unfortunately, many church leaders feel poorly equipped to effectively minister to those in their darkest hour. Bible teacher Dr. Herbert Lockyer has provided this comprehensive source book of sermons, Scripture passages, prayers, and poems, as well as proper etiquette and manner, enabling any pastor to better carry the gospel of consolation to the distressed and brokenhearted in their great time of sorrow.
- Publisher


Meet the Author
Herbert Lockyer
Dr. Herbert Lockyer (1886 1984) held pastorates in Scotland andý England for twenty-five years. As pastor of Leeds Road Baptist Churchý in Bradford, England, he became a leader in the Keswick Higher Lifeý Movement, which emphasized the significance of living in the fullnessý of the Holy Spirit. This led to an invitation to speak at the Moody Bibleý Institute's fiftieth anniversary in 1936. His warm reception at that eventý led to his ministry in the United States. In 1955, he returned to England, ý where he lived for many years. He spent the final years of his life iný Colorado








Table Of Contents
Attending To Those In Grief And Mourning Is A Critical Duty Of Any Member Of The Clergy. Unfortunately, Many Church Leaders Feel Poorly Equipped To Effectively Minister To Those In Their Darkest Hour. Bible Teacher Dr. Herbert Lockyer Has Provided This Comprehensive Source Book Of Sermons, Scripture Passages, Prayers, And Poems, As Well As Proper Etiquette And Manner, Enabling Any Pastor To Better Carry The Gospel Of Consolation To The Distressed And Brokenhearted In Their Great Time Of Sorrow.