Future Tense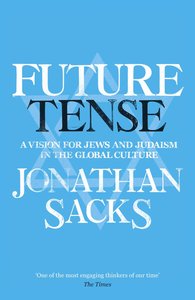 Historically, Jews have thought of themselves in terms of the biblical phrase, 'The people that dwells alone.' In the current global environment, this is dangerous. It leads to the isolation of Jews, Judaism and Israel. Too much contemporary Jewish writing is self-referential: Jews talking to Jews, preaching to the converted. Yet Jews cannot cure anti-Semitism alone. We need to persuade Jews and non-Jews alike that Jews, Judaism and Israel have something unique to contribute to the future.FUTURE TENSE does this. It moves beyond the 'they hate us' school of Jewish thought to provide an overarching vision for the future of Judaism, Jewish life and Israel for the twenty-first century.

- Publisher
You May Also Be Interested In
About "Future Tense"
Historically, Jews have thought of themselves in terms of the biblical phrase, 'The people that dwells alone.' In the current global environment, this is dangerous. It leads to the isolation of Jews, Judaism and Israel. Too much contemporary Jewish writing is self-referential: Jews talking to Jews, preaching to the converted. Yet Jews cannot cure anti-Semitism alone. We need to persuade Jews and non-Jews alike that Jews, Judaism and Israel have something unique to contribute to the future.FUTURE TENSE does this. It moves beyond the 'they hate us' school of Jewish thought to provide an overarching vision for the future of Judaism, Jewish life and Israel for the twenty-first century.
- Publisher


Meet the Author
Jonathan Sacks
Sir Jonathan Sacks is Chief Rabbi of the United Hebrew Congregations of Britain and the Commonwealth. He is the author of numerous books, including Celebrating Life, From Optimism to Hope, The Persistence of Faith and The Dignity of Difference, for which he won a Grawemeyer Award in Religion.