Fyodor Dostoevsky (Christian Encounters Series)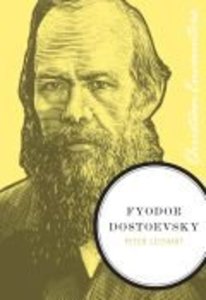 Artfully written and cleverly constructed, this biography in the Christian Encounters Series gives readers a compelling look at the world-famous writer and the social, political, and scientific forces that set the stage for his literary greatness.
Dostoevsky walked toward the firing squad in Semenovsky Square in the heart of St. Petersburg, Russia. Newly fallen snow blew wildly through the windswept grounds lined by state police. It was a wintry morning, and the sun shone a suffused haze through thick clouds. In the center of the square, seven severe officers stood like statues with rifles at the ready as Dostoevsky and his fellow prisoners looked on. While counting his last steps on earth, Dostoevsky was spared by an order to imprisonment in Siberia--where he would be transformed in the crucible of peasant life.
In this gripping, beautifully written biography, readers get an intimate inside look at the life of this world-famous author who explored human nature perhaps more deeply than any other. Who, under the watchful eye of a suppressive Russian government, fought for the common people and fought for truth. "Fyodor Dostoevsky" artfully weaves the cultural, political, and scientific forces at play that set the stage for his world-renowned writing. Amid all this, readers discover the humanity of this iconic writer and his lifelong battle to exemplify the teachings of Jesus.
- Publisher
In his twenties, Fydor Dostoevsky, son of a Moscow doctor, graduate of a military academy, and rising star of Russian literature, found himself standing in front of a firing squad, accused of subversive activities against the Russian Tsar. Then the drums rolled, signaling that instead he was to be exiled to the living death of Siberia.
Siberia was so cold the mercury froze in the thermometer. In prison, Dostoevsky was surrounded by murderers, thieves, parricides, and brigands who drank heavily, quarreled incessantly, and fought with horrible brutality. However, while "prisoners were piled on top of each other in the barracks, and the floor was matted with an inch of filth," Dostoevsky learned a great deal about the human condition that was to impact his writing as nothing had before.
To absorb Dostoevsky's remarkable life in these pages is to encounter a man who not only examined the quest of God, the problem of evil, and the suffering of innocents in his writing but also drew inspiration from his own deep Christian faith in giving voice to the common people of his nation... and ultimately the world.
- Publisher
You May Also Be Interested In
This item is in the following kit
About "Fyodor Dostoevsky (Christian Encounters Series)"
Artfully written and cleverly constructed, this biography in the Christian Encounters Series gives readers a compelling look at the world-famous writer and the social, political, and scientific forces that set the stage for his literary greatness.

Dostoevsky walked toward the firing squad in Semenovsky Square in the heart of St. Petersburg, Russia. Newly fallen snow blew wildly through the windswept grounds lined by state police. It was a wintry morning, and the sun shone a suffused haze through thick clouds. In the center of the square, seven severe officers stood like statues with rifles at the ready as Dostoevsky and his fellow prisoners looked on. While counting his last steps on earth, Dostoevsky was spared by an order to imprisonment in Siberia--where he would be transformed in the crucible of peasant life.

In this gripping, beautifully written biography, readers get an intimate inside look at the life of this world-famous author who explored human nature perhaps more deeply than any other. Who, under the watchful eye of a suppressive Russian government, fought for the common people and fought for truth. "Fyodor Dostoevsky" artfully weaves the cultural, political, and scientific forces at play that set the stage for his world-renowned writing. Amid all this, readers discover the humanity of this iconic writer and his lifelong battle to exemplify the teachings of Jesus.


- Publisher

In his twenties, Fydor Dostoevsky, son of a Moscow doctor, graduate of a military academy, and rising star of Russian literature, found himself standing in front of a firing squad, accused of subversive activities against the Russian Tsar. Then the drums rolled, signaling that instead he was to be exiled to the living death of Siberia.




Siberia was so cold the mercury froze in the thermometer. In prison, Dostoevsky was surrounded by murderers, thieves, parricides, and brigands who drank heavily, quarreled incessantly, and fought with horrible brutality. However, while "prisoners were piled on top of each other in the barracks, and the floor was matted with an inch of filth," Dostoevsky learned a great deal about the human condition that was to impact his writing as nothing had before.




To absorb Dostoevsky's remarkable life in these pages is to encounter a man who not only examined the quest of God, the problem of evil, and the suffering of innocents in his writing but also drew inspiration from his own deep Christian faith in giving voice to the common people of his nation... and ultimately the world.


- Publisher


Meet the Author
Peter Leithart
Peter J. Leithart (Ph.D., University of Cambridge) is senior fellow of theology and literature at New St. Andrews College and pastor of Trinity Reformed Church in Moscow, Idaho. He is the author of a number of books, including A House for My Name: A Survey of the Old Testament; Against Christianity, Solomon among the Postmoderns; The Promise of his Appearing (2 Peter) and 1 and 2 Kings (Brazos Theological Commentary on the Bible). He is also a contributing editor for Touchstone
Other Titles In The "Christian Encounters Series" Series View All