Galilee in the Late Second Temple and Mishnaic Periods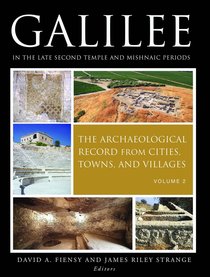 $

99.99

$

79.99
You Save: $20.00 (20%)
Paperback
This second of two volumes on Galilee in the Late Second Temple and Mishnaic Periods focuses on the site excavations of towns and villages and what these excavations may tell us about the history of settlement in this important period. The important site at Sepphoris is treated with four short articles, while the rest of the articles focus on a single site and include site plans, diagrams, maps, photographs of artifacts and structures, and extensive bibliographic listings. The articles in the volume have been written by an international group of experts on Galilee in this period: Christians, Jews, and secular scholars, many of whom are also regular participants in the twenty site excavations featured in the volume. The volume also features detailed maps of Galilee, a gallery of color images, timelines related to the period, and helpful indices. Together with Volume 1: Life, Culture, and Society, this volume provides the latest word of these topics for the expert and nonexpert alike.

- Publisher
You May Also Be Interested In
About "Galilee in the Late Second Temple and Mishnaic Periods"
This second of two volumes on Galilee in the Late Second Temple and Mishnaic Periods focuses on the site excavations of towns and villages and what these excavations may tell us about the history of settlement in this important period. The important site at Sepphoris is treated with four short articles, while the rest of the articles focus on a single site and include site plans, diagrams, maps, photographs of artifacts and structures, and extensive bibliographic listings. The articles in the volume have been written by an international group of experts on Galilee in this period: Christians, Jews, and secular scholars, many of whom are also regular participants in the twenty site excavations featured in the volume. The volume also features detailed maps of Galilee, a gallery of color images, timelines related to the period, and helpful indices. Together with Volume 1: Life, Culture, and Society, this volume provides the latest word of these topics for the expert and nonexpert alike.
- Publisher


Table Of Contents
Contributors: Archaeological Chronology, And Events And Rulers In Galilee And Judea In The Late Second Temple Through Mishnaic Periods; Maps And Galilee Photo Gallery; Preface And Introduction To Galilee - David A. Fiensy And James Riley Strange; 1. The Transformation From Galil Ha-goyim To Jewish Galilee - Mordechai Aviam; 2. Sepphoris - James F. Strange, Eric M. Meyers, Carol L. Meyers, Benjamin D. Gordon, And Ze'ev Weiss; 3. Kefar Shikhin - James Riley Strange; 4. Yodefat-jotapata - Mordechai Aviam; 5. Khirbet Qana - C. Thomas Mccoilough; 6. Karm Er-ras Near Kafr Kanna - Yardenna Alexandre; 7. Kafr Kanna (the Franciscan Church) - F. Massimo Luca, Ofm; 8. Nazareth - James F. Strange; 9. Kefar Hananya - David Adan-bayewitz; 10. Tiberias, From Its Foundation To The End Of The Early Islamic Period - Katia Cytryn-silverman; 11. Hamath Tiberias - Carl Savage; 12. Capernaum, Village Of Naum, From Hellenistic To Byzantine Times - Sharon Lea Matilla; 13. Bethsaida - Rami Arav And Carl Savage; 14. Magdaia - Stefano De Luca And Anna Lena; 15. Khirbet Wadi Hamam In The Early And Middle Roman Periods - Uzi Leibner; 16. Huqoq In The Late Hellenistic And Roman Periods - Matthew J. Grey And Chad S. Spigel; 17. Meiron In Upper Galilee - Eric M. Meyers And Carol L. Meyers; 18. Gush Halav - Jame's F. Strange; 19. Nabratein - Eric M. Meyers And Carol L. Meyers; 20. The Ancient Synagogue And Village At Khirbet Shema - Eric M. Meyers; 21. Kedesh Ofthe Upper Galilee - Andrea M. Berlin And Sharon C. Hiebert; Indexes, Contributors, And Glossary.