Game Changer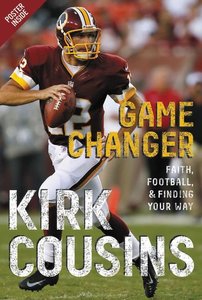 'This game means a lot to me, and by the grace of God, I'll never lose sight of the privilege it is to play it.' -Kirk Cousins Here's a chance to sit down with Kirk Cousins, record-setting formerMichigan State Quaterback and draft pick of the NFL's Washington Redskins. Get an inside look at high-stakes football and the experiences that helped Cousins put his values and faith into action, on and off the field. In this book, Kirk Cousins tells stories from his own life under the bright lights of college and pro football. What's it really like to live in the spotlight of pressure and fame? This book will give you an inside look at Big Ten and professional football through the eyes of Kirk Cousins, former quarterback for Michigan State University and draft pick for the NFL's Washington Redskins. Game Changer is a dispatch from a real Christian life--with all its victories and defeats--lived under the bright lights of high-stakes football. Featuring: Personal stories and struggles of a competitive Christian athlete Truthful discussion of media hype and modern sports culture Reflections on honesty, humility, hard work, and privilege Life principles for winning choices on and off the field.

- Publisher
You May Also Be Interested In
About "Game Changer"
'This game means a lot to me, and by the grace of God, I'll never lose sight of the privilege it is to play it.' -Kirk Cousins Here's a chance to sit down with Kirk Cousins, record-setting formerMichigan State Quaterback and draft pick of the NFL's Washington Redskins. Get an inside look at high-stakes football and the experiences that helped Cousins put his values and faith into action, on and off the field. In this book, Kirk Cousins tells stories from his own life under the bright lights of college and pro football. What's it really like to live in the spotlight of pressure and fame? This book will give you an inside look at Big Ten and professional football through the eyes of Kirk Cousins, former quarterback for Michigan State University and draft pick for the NFL's Washington Redskins. Game Changer is a dispatch from a real Christian life--with all its victories and defeats--lived under the bright lights of high-stakes football. Featuring: Personal stories and struggles of a competitive Christian athlete Truthful discussion of media hype and modern sports culture Reflections on honesty, humility, hard work, and privilege Life principles for winning choices on and off the field.
- Publisher


Meet the Authors
Ted Kluck
Ted Kluck's work has appaered in ESPN the Magazine, Sports Spectrum Magazine, ESPN.com Page2, and several small literary journals. A bi-monthly column for Sports Spectrum Magazine entitled "Pro and Con" won the Evangelical Presss Association award for best standing column in 2003. Additionally, Ted has written two WGA registered screenplays and an award-winning (Damah Film Festival, Sabaoth Film Festival) short film. Ted lives in Lansing, Michigan with his wife Kristen, and son, Tristan.
He has co-authored Why We Love the Church: In Praise of Institutions and Organized Religion and Why We're Not Emergent: (By Two Guys Who Should Be) with Kevin DeYoung
Kirk Cousins
Three-time team captain, Kirk Cousins is currently considered one of the most successful quarterbacks in Michigan State University history, holding MSU records for passing yards, touchdowns, completions and more. In addition to his success on the gridiron, Kirk was named Academic All-Big Ten four years in a row, and he was selected as the 2011 Lowe's Senior CLASS Award winner in the NCAA Division I Football Bowl Subdivision. In 2012, Kirk was drafted by the Washington Redskins, where he has continued to inspire on and off the field. The son of Don and MaryAnn Cousins, Kirk grew up in Holland, Michigan, with his siblings, Kyle and Karalyne. Game Changer is his first book.