Gene Edwards Collection: The a Tale of Three Kings / the Prisoner in the Third Cell / the Divine Romance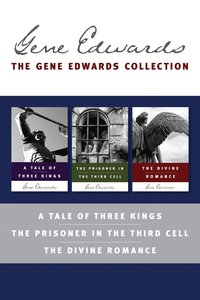 This collection bundles three titles from beloved author Gene Edwards into one e-book for a great value!

A Tale of Three Kings
This best-selling tale is based on the biblical figures of David, Saul, and Absalom. For the many Christians who have experienced pain, loss, and heartache at the hands of other believers, this compelling story offers comfort, healing, and hope. Christian leaders and directors of religious movements throughout the world have recommended this simple, powerful, and beautiful story to their members and staff. You will want to join the thousands who have been profoundly touched by this incomparable story.

The Prisoner in the Third Cell
Imprisoned by Herod, John the Baptist struggles to understand a Lord who did not meet his expectations-a dramatic account offering insight into the ways of God.

The Divine Romance
A breathtakingly beautiful saga spanning from eternity to eternity, presented from the view of angels. Experience creation, the crucifixion, and the resurrection from this unique viewpoint, and gain a better understanding of the majestic love of God. Gene Edwards's classic tale is the greatest love story ever told.

- Publisher
You May Also Be Interested In
About "Gene Edwards Collection: The a Tale of Three Kings / the Prisoner in the Third Cell / the Divine Romance"
This collection bundles three titles from beloved author Gene Edwards into one e-book for a great value!

A Tale of Three Kings
This best-selling tale is based on the biblical figures of David, Saul, and Absalom. For the many Christians who have experienced pain, loss, and heartache at the hands of other believers, this compelling story offers comfort, healing, and hope. Christian leaders and directors of religious movements throughout the world have recommended this simple, powerful, and beautiful story to their members and staff. You will want to join the thousands who have been profoundly touched by this incomparable story.

The Prisoner in the Third Cell
Imprisoned by Herod, John the Baptist struggles to understand a Lord who did not meet his expectations-a dramatic account offering insight into the ways of God.

The Divine Romance
A breathtakingly beautiful saga spanning from eternity to eternity, presented from the view of angels. Experience creation, the crucifixion, and the resurrection from this unique viewpoint, and gain a better understanding of the majestic love of God. Gene Edwards's classic tale is the greatest love story ever told.
- Publisher


Meet the Author
Gene Edwards
Earl Eugene Gene Edwards (born July 18, 1932) is an American house church planter, a Christian author, and a former Southern Baptist pastor and evangelist. A graduate of Southwestern Baptist Theological Seminary, he was instrumental in pioneering the house church concept in the United States. He is the author of well-known books The Divine Romance, A Tale of Three Kings, Climb the Highest Mountain and The Day I was Crucified.