Generation Xl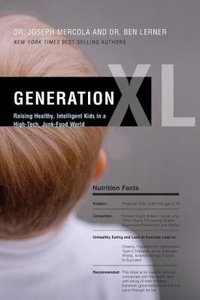 Drs. Mercola and Lerner believe profound inactivity, addiction to electronic media, and diets of super-sized fast food and sugar-laden beverages have created a national emergency. This work is a clarion call and a detailed guide to giving a child a vibrant, successful future, and a healthy, wholesome, invigorating youth.

- Publisher
You May Also Be Interested In
About "Generation Xl"
Drs. Mercola and Lerner believe profound inactivity, addiction to electronic media, and diets of super-sized fast food and sugar-laden beverages have created a national emergency. This work is a clarion call and a detailed guide to giving a child a vibrant, successful future, and a healthy, wholesome, invigorating youth.
- Publisher


Meet the Authors
Joseph Mercola
Dr. Joseph Mercola is an osteopathic physician and director of the Optimal Wellness Center for his medical clinic outside of Chicago. Trained in both alternative and traditional medicine, he has served as the chairman of the family medicine department at St. Alexius Medical Center for five years.
Ben Lerner
Benjamin S. Lerner is an American poet. Born on February 4, 1979 and raised in Topeka, Kansas, he is a 1997 graduate of Topeka High School. At Brown University he earned a B.A. in Political Theory and a MFA in Poetry. In 2003 Copper Canyon Press awarded its Hayden Carruth prize to Lerner's cycle of fifty-two loose sonnets, The Lichtenberg Figures. In 2004, Library Journal named it one of the year's twelve best books of poetry. He traveled on a Fulbright Scholarship to Madrid, Spain in 2003 where he wrote his second book, Angle of Yaw. Together with Deb Klowden, Lerner presently edits No: A Jou
Ben Lerner
Benjamin S. Lerner is an American poet. Born on February 4, 1979 and raised in Topeka, Kansas, he is a 1997 graduate of Topeka High School. At Brown University he earned a B.A. in Political Theory and a MFA in Poetry. In 2003 Copper Canyon Press awarded its Hayden Carruth prize to Lerner's cycle of fifty-two loose sonnets, The Lichtenberg Figures. In 2004, Library Journal named it one of the year's twelve best books of poetry. He traveled on a Fulbright Scholarship to Madrid, Spain in 2003 where he wrote his second book, Angle of Yaw. Together with Deb Klowden, Lerner presently edits No: A Jou