Generous Living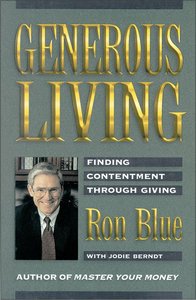 Ron Blue challenges and encourages the reader to live generously by addressing such topics as its better to give than receive, how to teach your children to give, how to give away your money wisely, and how to make a will. 176 pages, from Zondervan.
You May Also Be Interested In
About "Generous Living"
Ron Blue challenges and encourages the reader to live generously by addressing such topics as its better to give than receive, how to teach your children to give, how to give away your money wisely, and how to make a will. 176 pages, from Zondervan.
- Koorong

What do generous people know that makes them give gladly and liberally of their time, talents, wealth, and other resources? Why should you become such a person--and how can you? Financial advisor Ron Blue explains why an openhanded spirit is the key to freedom, contentment, and joy. In Generous Living, he shows what happens when you become a giver, and helps you start right where you are cultivating a generous lifestyle. Pointing you beyond guilt-induced giving, Blue shows you the true, Bible-based way to give effectively, joyfully, and wisely. You'll gain important insights into making a will, setting up a trust and foundation, and teaching your children to give. But better still, you'll find out - why to give - how you can give - where it is best to give - when and how often to give
- Publisher


Meet the Author
Ron Blue
Following his graduation from Indiana University with an MBA, Ron joined the management group of Peat, Marwick, Mitchell & Co. and worked with the firm in New York City, Dallas, and San Francisco.In 1970, Ron founded an Indianapolis-based CPA firm that has grown to be one of the 50 largest CPA firms in the United States. Leaving the CPA firm in 1977, Ron became Administrative Vice President of Leadership Dynamics International. While with Leadership Dynamics, he was involved in developing and teaching Biblically-based leadership and management seminars in the United States and Africa. Convince
Table Of Contents
Contents

Part One: Living And Giving With Joy

1. Generosity: The Secret To True Contentment

2. Treasure Hunting: Where Is Your Heart?

3. Why Christians Don't Give: Seven Things That Hold Us Back

4. Generosity As A Lifestyle: Giving Time, Talents, And Possessions

Part Two: The Process Of Giving

5. Preparation: Hearing God's Word

6. Problem Solving: Getting A Fix On Your Finances

7. The Right Perspective: Seeing Things As God Sees Them

8. The Plan: How Generous Do You Want To Be?

Part Three: Practical Applications For A Generous Life

9. Strategic Giving: Making Your Charitable Contributions Count

10. Giving To Your Children: Passing Down More Than Money

11. Giving Through Your Will: Six Critical Decisions You Need To Make

12. A Formal Talk: Holding A Family Conference

13. Opportunity Knocks: Solving The Wealth Paradox

Notes

Resources

Acknowledgment
Excerpt
Excerpt from: Generous Living
Chapter One Generosity The Secret to True Contentment WHEN THIS BOOK WAS STILL IN ITS INFANCY, I flew to Grand Rapids, Michigan, for a meeting with my editor at Zondervan. As I settled into my seat on the airplane, I couldn't help but notice the young woman next to me. She was attractive, well dressed, and looked about twenty years old. But what struck me more than anything was the discontented, almost angry look she wore. Rarely had I seen a stranger look so unhappy. 'Where are you going?' I asked, trying to start a conversation. 'Grand Rapids,' she replied, before focusing her gaze on the magazine she carried. Clearly, she did not want to talk. I glanced at the magazine. It was one of those in-flight travelers' catalogues, offering everything from designer luggage to fancy electronics. As I turned my attention to some paperwork, the young woman continued to scrutinize the catalogue. Finally, after about thirty minutes, she reached for the cellular telephone in the seat in front of us. She ran a credit card through the phone and began punching numbers. My curiosity aroused, I looked to see what she was up to. Credit card in hand, my young seatmate was systematically working her way through the catalogue, ordering something, it seemed, from almost every page. Never had I witnessed such a thorough (and expensive) shopping spree---to say nothing of the cellular phone bill! Thirty minutes later she replaced the telephone. I realized this young woman obviously had money to burn. I stole another glance at her face. She looked just as unhappy as ever. The picture of that young lady stands in sharp contrast to the images I have in my mind from another trip. Just before I began working on this book, my wife Judy and I flew to Japan, where we visited our daughter, Karen, and her husband, Mark. We traveled through various parts of Asia, touring through Hong Kong with some missionary friends. We happened upon Hong Kong as the city was gearing up for the Chinese New Year festivities. The celebration, we were told, was like an American Thanksgiving, Christmas, New Year's, and Fourth of July all rolled into one. Business came to a halt as hundreds of millions of revelers traveled throughout China and Taiwan to join their families and friends. In Hong Kong itself, the streets were mobbed. We found ourselves swept along with the crowd, weaving our way through thousands of vendors hawking everything from chickens (both live and dead) to finely tailored suits and all manner of electronics. Everywhere we went we were surrounded by high-rise apartments. Stretching skyward from the crush of humanity and dinginess below, the buildings heightened my sense of claustrophobia. As I looked up at the endless lines of laundry flapping from balconies and strung between buildings, I wondered how many people made their home in each one of the apartments towering above us? I thought about Karen and Mark's apartment in Japan, which was small---about five hundred square feet. The shower stall was in the kitchen---but, as Karen laughingly pointed out, that didn't matter much since the bedroom was only another half step away. The only real discomfort was the cold. Without a central heating system, it might be as cold as twenty degrees Fahrenheit indoors in the morning, before the space heaters were turned on. A friend had arranged for the four of us---Karen, Mark, Judy, and me---to stay at the Ritz Carlton in Hong Kong. It was a real treat. In Karen's eyes, though, the hotel stay seemed less than remarkable. Like each of my children (and most of their generation), Karen tends to see folks my age as much better off, financially, than she and her peers will ever be. To Karen, it made perfect sense that Judy and I would find ourselves camped in a fancy hotel. Sometimes I wish I could take my kids back in time, so they could see where we've been. The father they see now is the man who has spent the last seventeen years building a large financial and investment counseling firm. They see the author, the radio commentator, and the public speaker who gets dubbed a financial 'guru.' When I speak, they hear me get introduced sometimes as 'the guy who is going to give us all the answers.' But that's only part of the picture. What my kids cannot see is the reality of my own childhood, my growing up in post-Depression Indiana. Neither of my parents went to college; my mother only finished the eighth grade. Dad worked in a factory to provide for our family. Instead of renting a beach house or a mountain cabin, we took vacations in relatives' homes. Instead of going to theme parks or ball games, we packed picnics for weekend entertainment. And instead of buying new clothes or toys, my brother and I made do with hand-me-downs. I'll never forget the broken baseball bats we taped and tacked back together! I attended a public high school and then worked my way through Indiana University, waiting tables in my fraternity and borrowing money to pay for my room and board. By the time I finished graduate school in 1967, I had a wife, one child, several thousand dollars worth of school debt, and an ancient turquoise Chevrolet.