Genesis (New Edition) (Everyman's Bible Commentary Series)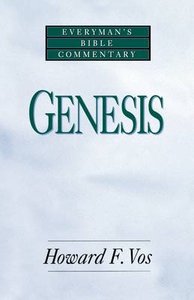 Genesis - Everyman's Bible Commentary by Dr. Howard F. Vos

- Publisher How did we get here? Why are we here? What is our future? The book of Genesis gives the loving answers of God, told in the powerful stories of Abraham, Jacob, Isaac and Joseph. These are men who pursued and fought God, disobeyed Him and praised Him. Howard Vos explains how the stories of Genesis can answer our big questions while investing our lives with more meaning and purpose.

- Publisher Designed for laypeople, these commentaries deal seriously with the biblical text without being overly technical. Introductory information, doctrinal themes, problem passages, and practical applications are examined.

- Publisher
You May Also Be Interested In
About "Genesis (New Edition) (Everyman's Bible Commentary Series)"
Genesis - Everyman's Bible Commentary by Dr. Howard F. Vos
- Publisher

How did we get here? Why are we here? What is our future? The book of Genesis gives the loving answers of God, told in the powerful stories of Abraham, Jacob, Isaac and Joseph. These are men who pursued and fought God, disobeyed Him and praised Him. Howard Vos explains how the stories of Genesis can answer our big questions while investing our lives with more meaning and purpose.
- Publisher

Designed for laypeople, these commentaries deal seriously with the biblical text without being overly technical. Introductory information, doctrinal themes, problem passages, and practical applications are examined.
- Publisher


Meet the Author
Howard F Vos
Howard F. Vos es profesor de historia y arqueologia en el King's College (Nueva York). Es autor de "Breve historia de la Iglesia cristiana" (Editorial Portavoz), "Galatas: Una llamada a la libertad cristiana" (de la serie "Comentario biblico Portavoz") e "Introduccion a la arqueologia de la Biblia" al igual que de varios libros en ingles. Sus grados incluyen B.A., Wheaton College; Th.M., Th.D., Dallas Theological Seminary; M.A., Ph.D., Northwestern University.
Table Of Contents
table Of Contents

1. Backgrounds

2. The Creation

3. The Fall Of Man And Extension Of Civilization

4. The Flood

5. Historical Developments After The Flood

6. Abraham (i)-covenant And Early Years In Canaan

7. Abraham (2)-the Destruction Of Sodom

8. Abraham (3)-covenant Fulfillment And Later Years In Canaan

9. Isaac

10. Jacob (i)-early Years And Sojourn In Haran

11. Jacob (2)-flight And Settlement In Canaan

12. Joseph (i)-early Life To Exaltation In Egypt

13. Joseph (2)-from The First Visit Of His Brothers To Their Migration To Egypt

14. Joseph (3)-the Latter Days Of Joseph And Jacob
Other Titles In The "Everyman's Bible Commentary" Series View All
$13.99




Order now to secure your copy when our stock arrives. eBook is Available. 0 Available. Expected to ship in 6 to 7 weeks from Australia.

Formats

$13.99




Order now to secure your copy when our stock arrives. 0 Available. Expected to ship in 5 to 6 weeks from Australia.

Formats