Genesis (Studies On The Go Series)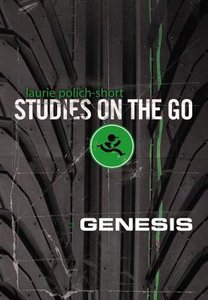 Studying the Bible can be a daunting prospect, with each passage revealing new truths at every reading. The Studies on the Go series is designed to help keep your youth group focused and exciting, exploring the rich depths in every book of the bible. In Genesis, Laurie Polich-Short delivers a set of 30 in-depth study sessions to unlock the potential in the first book of the Bible. Every chapter is examined with care and matched with questions to promote discussion in a group study setting. These segments also include tips to help your students apply what they learn in their everyday lives. The Studies on the Go series has provided invaluable resources for small group leaders, and Genesis is a title in that same tradition. Structured study questions and varied discussion topics promise a rich experience and deeper understanding of God's word for your small group.

- Publisher
You May Also Be Interested In
About "Genesis (Studies On The Go Series)"
Studying the Bible can be a daunting prospect, with each passage revealing new truths at every reading. The Studies on the Go series is designed to help keep your youth group focused and exciting, exploring the rich depths in every book of the bible. In Genesis, Laurie Polich-Short delivers a set of 30 in-depth study sessions to unlock the potential in the first book of the Bible. Every chapter is examined with care and matched with questions to promote discussion in a group study setting. These segments also include tips to help your students apply what they learn in their everyday lives. The Studies on the Go series has provided invaluable resources for small group leaders, and Genesis is a title in that same tradition. Structured study questions and varied discussion topics promise a rich experience and deeper understanding of God's word for your small group.
- Publisher


Meet the Author
Laurie Polich-Short
With 15 years of youth ministry experience, Laurie Polich-Short serves as pastor of small groups and discipleship at Ocean Hills Covenant Church, in Santa Barbara. She's the author of several books including Help! I'm a Small-Group Leader training curriculum and book, Studies on the Go: John, and Small Group Qs, and she speaks frequently to students and youth workers across the country.
Table Of Contents
1.genesis 1: 'in The Beginning' (sample Enclosed)

2.genesis 2: 'adam And Eve'

3.genesis 3: 'the Fall'

4.genesis 4: 'cain And Abel'

5.genesis 6-9: 'the Flood'

6.genesis 10-11: 'the Tower Of Babel'

7.genesis 12-15: 'the Call Of Abraham'

8.genesis 16: 'hagar And Ishmael'

9.genesis 17-18: 'is Anything Too Hard?'

10.genesis 18-19: 'sodom And Gomorrah'

11.genesis 20-21: 'fear And Faith'

12.genesis 22: 'abraham's Test'

13.genesis 24: A Perfect Match'

14.genesis 25: 'twins Of Prophecy'

15.genesis 27: 'jacob's Blessing'

16.genesis 29-30: 'leah And Rachel'

17.genesis 32: 'wrestling With God'

18.genesis 33: 'surprised By Grace'

19.genesis 34: 'results Of Revenge'

20.genesis 37: 'devine Dreams'

21.genesis 38: 'tamar's Tenacity'

22.genesis 39: 'joseph And Potiphar's Wife'

23.genesis 40: 'trust In Trials'

24.genesis 41: 'perseverance Pays Off'

25.genesis 42: 'unrecognized Reunion

26.genesis 43-44: 'grief And Payback'

27.genesis 45: 'seeing God's Perspective'

28.genesis 47: Authority From God

29.genesis 49: 'a Shadow Of Things To Come'

30.genesis 50: 'god's Purpose Revealed'
Other Titles In The "Studies On The Go Series" Series View All