Get Healthy Through Detox and Fasting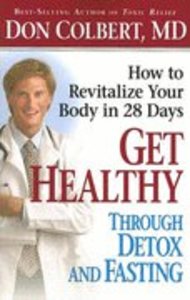 You can't afford not to fast -- considering we live in a toxic world. Dr. Don Colbert, author of the bestsellers Toxic Relief and the Bible Cure series, provides a twenty-eight-day protocol for detoxifying the body of harmful toxins that is designed to restore you to health -- body, mind, and spirit. Many have never fasted, but this book's versatility allows for as little as a partial cleanse over a two- to three-day period, a two-week plan for providing liver support against the effects of toxins, or the total twenty-eight-day protocol to both support the liver and detoxify your body. Unlike other books on fasting, this book combines medical information and spiritual principles as Dr. Colbert offers a simplified plan in a short, succinct read.

- Publisher Everybody needs to detox and fast to cleanse the body. Dr. Colbert's all-natural suggestions make it easy.

- Publisher
You May Also Be Interested In
About "Get Healthy Through Detox and Fasting"
You can't afford not to fast -- considering we live in a toxic world. Dr. Don Colbert, author of the bestsellers Toxic Relief and the Bible Cure series, provides a twenty-eight-day protocol for detoxifying the body of harmful toxins that is designed to restore you to health -- body, mind, and spirit. Many have never fasted, but this book's versatility allows for as little as a partial cleanse over a two- to three-day period, a two-week plan for providing liver support against the effects of toxins, or the total twenty-eight-day protocol to both support the liver and detoxify your body. Unlike other books on fasting, this book combines medical information and spiritual principles as Dr. Colbert offers a simplified plan in a short, succinct read.
- Publisher

Everybody needs to detox and fast to cleanse the body. Dr. Colbert's all-natural suggestions make it easy.
- Publisher


Meet the Author
Don Colbert
Don Colbert, M.D., is one of America's foremost authorities on the integration of natural and conventional health care. He is a board-certified family practitioner and is the author of such book as What Would Jesus Eat? Toxic Relief, Walking in Divine Health, and theBible Cure Booklet Series. A best-selling author, and a dynamic public speaker, his tremendously popular books exceed four million copies in print. He brings a 21st century approach to a timeless message of healthy lifestyle habits. Dr Colbert hosts an American national talk show, 'Your Health Matters', with his wife Mary and contributes columns both to Joyce Meyer's partner's magazine and Charisma magazine. He regularly speaks at national seminars. He makes his home in central Florida.- Publisher.