Gideon's Gift (#01 in Red Gloves Series)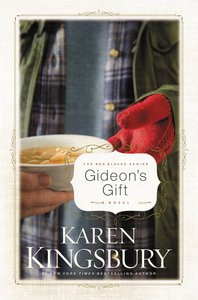 One long-ago Christmas, Earl Gibson lost the two things most precious to him: his wife and daughter. Angry and heartbroken, he ended up living on the streets and abandoned any belief he'd once had in God.
Ten years later Big Earl meets Gideon, a seven-year-old leukemia patient who believes with all her heart that "Christmas means never having to ask God how much he loves us." Gideon is determined to reach this lonely and hurting man who hates Christmas--and he is just as determined to rebuff her. It will take a miracle for Earl to come to understand the true meaning of Christmas. But if he can accept what Gideon wants to give him, he might find that he can return the favor with a precious gift of his own.
In GIDEON'S GIFT, Karen Kingsbury reminds us that Christmas is still a time of miraculous possibilities if only we reach out to those around us.


- Publisher
You May Also Be Interested In
About "Gideon's Gift (#01 in Red Gloves Series)"
One long-ago Christmas, Earl Gibson lost the two things most precious to him: his wife and daughter. Angry and heartbroken, he ended up living on the streets and abandoned any belief he'd once had in God.
Ten years later Big Earl meets Gideon, a seven-year-old leukemia patient who believes with all her heart that "Christmas means never having to ask God how much he loves us." Gideon is determined to reach this lonely and hurting man who hates Christmas--and he is just as determined to rebuff her. It will take a miracle for Earl to come to understand the true meaning of Christmas. But if he can accept what Gideon wants to give him, he might find that he can return the favor with a precious gift of his own.
In GIDEON'S GIFT, Karen Kingsbury reminds us that Christmas is still a time of miraculous possibilities if only we reach out to those around us.

- Publisher


Meet the Author
Karen Kingsbury
Karen Kingsbury is America's favorite inspirational novelist with over 5 million books in print. Her Life-Changing Fiction has produced multiple bestsellers including Even Now, One Tuesday Morning, Beyond Tuesday Morning, and the popular Redemption Series. An award-winning author and newly published songwriter, Karen has had several movies optioned for production and her Christmas novel, Gideon's Gift, is as a major motion picture.
Other Titles In The "Red Gloves" Series View All