Girl, Wash Your Face: Stop Believing the Lies About Who You Are So You Can Become Who You Were Meant to Be (Unabridged, 6 Cds)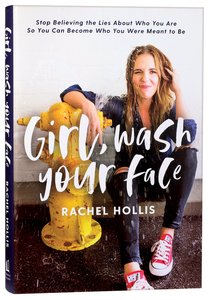 With wry wit and hard-earned wisdom, popular online personality and founder of TheChicSite.com founder Rachel Hollis helps readers break free from the lies keeping them from the joy-filled and exuberant life they are meant to have.Founder of the lifestyle website TheChicSite.com and CEO of her own media company, Chic Media, Rachel Hollis has created an online fan base of hundreds of thousands of fans by sharing tips for living a better life while fearlessly revealing the messiness of her own. Now comes her highly anticipated first book featuring her signature combination of honesty, humor, and direct, no-nonsense advice.Each chapter of Girl, Wash Your Face begins with a specific lie Hollis once believed that left her feeling overwhelmed, unworthy, or ready to give up. As a working mother, a former foster parent, and a woman who has dealt with insecurities about her body and relationships, she speaks with the insight and kindness of a BFF, helping women unpack the limiting mind-sets that destroy their self-confidence and keep them from moving forward.From her temporary obsession with marrying Matt Damon to a daydream involving hypnotic iguanas to her son's request that she buy a necklace to "be like the other moms," Hollis holds nothing back. With unflinching faith and tenacity, Hollis spurs other women to live with passion and hustle and to awaken their slumbering goals.

- Publisher
You May Also Be Interested In
About "Girl, Wash Your Face: Stop Believing the Lies About Who You Are So You Can Become Who You Were Meant to Be (Unabridged, 6 Cds)"
With wry wit and hard-earned wisdom, popular online personality and founder of TheChicSite.com founder Rachel Hollis helps readers break free from the lies keeping them from the joy-filled and exuberant life they are meant to have.Founder of the lifestyle website TheChicSite.com and CEO of her own media company, Chic Media, Rachel Hollis has created an online fan base of hundreds of thousands of fans by sharing tips for living a better life while fearlessly revealing the messiness of her own. Now comes her highly anticipated first book featuring her signature combination of honesty, humor, and direct, no-nonsense advice.Each chapter of Girl, Wash Your Face begins with a specific lie Hollis once believed that left her feeling overwhelmed, unworthy, or ready to give up. As a working mother, a former foster parent, and a woman who has dealt with insecurities about her body and relationships, she speaks with the insight and kindness of a BFF, helping women unpack the limiting mind-sets that destroy their self-confidence and keep them from moving forward.From her temporary obsession with marrying Matt Damon to a daydream involving hypnotic iguanas to her son's request that she buy a necklace to "be like the other moms," Hollis holds nothing back. With unflinching faith and tenacity, Hollis spurs other women to live with passion and hustle and to awaken their slumbering goals.
- Publisher


Meet the Author
Rachel Hollis
Rachel Hollis is the founder of the popular lifestyle site www.thechicsite.com and the Los Angeles based event planning firm Chic Events. At twenty-seven, she was named by Inc. Magazine as one of its Top 30 Entrepreneurs under 30. She has designed and produced parties for many Hollywood stars, including Bradley Cooper, Al Gore, Jennifer Love Hewitt, Ivanka Trump, Rashida Jones, Marcia Cross, Jamie King, and Cuba Gooding Jr., among others. Rachel is a lifestyle expert for The Talk, Extra, The Nate Berkus Show, and The Steve Harvey Show and has been featured in People, InStyle, Cosmopolitan, OK!
Customer Reviews For "Girl, Wash Your Face: Stop Believing the Lies About Who You Are So You Can Become Who You Were Meant to Be (Unabridged, 6 Cds)"
Write Your Own Review
Not for Christian women
By Concerned husband,

Nov 28 2018
Looking for a book for my wife, came across the work of Rachel Hollis who by all accounts is a fantastic writer.

Did some research and found out unfortunately this book is not for mature Christian women. Or even women new to the faith. Concerned it's been advertised as such.

If the reader's ultimate goal is to be the best version of themselves, to make themselves first in their life. Then buy this book. If their goal is to make God first in their life, check out other female authors like Rosaria Butterfield (I read through her first book in one day - could not put it down!)

For a quick, but thorough (and well written) review from an actual female Christian theologian, Google the below. It'll only take a few minutes to read. Then decide for yourselves.

http:www.sheologians.comfinal-thoughts-girl-wash-face
---
So so encouraging
By Jacqui,

Aug 01 2018
This book is full of encouraging gems of wisdom for women. Each chapter addresses a lie that women believe about themselves. Rachel shares in a very vulnerable at times, quirky at other times from her own life and experiences. It is sprinkled with biblical truths. The underlying message that continues to come through is that God made you exactly as he wanted to so delight in the person that you are. A great book to have a reread.
---
MUST READ!!!
By Laura,

May 19 2018
This book is an absolute gem! I laughed, cried and practicaly jumped out of my skin with inspiration. Rachel Hollis is a gift to the world of women.
---
Excellent reading
By Monique,

Apr 05 2018
I absolutely loved this book! Rachel describes many lies that woman believe about themselves and how she was able to overcome them with the truth. She is so raw and honest as she talks about her many experiences through life. She touches on many topics such as work, motherhood, sex, marriage, social media, and body image. I did not want to put this book down and it's definitely one I recommend to women of all ages. Buy one for yourself but also buy one for a friend! Rachel will have you laughing out loud as you share the journey with her. 
{{review.title}}
By {{review.author.name}},

{{review.reviewCreatedDate | date:'MMM dd yyyy'}}

{{reviewdescription}}
{{review.text}}
---