Girls of Grace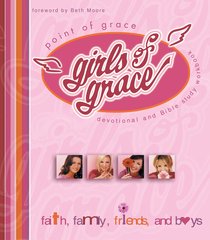 Point Of Grace launches a new book and tour of the same title to give direction and hope to the next generation of young women. This unique book, designed to help young women grow in their Christian walk, offers practical teaching, personal stories, and biblical insight into the issues that mean the most to teenage girls: faith, family, friends, and boys. Each chapter includes a message from one of the four members of Point Of Grace, a key Scripture, and a special study guide to help teenage girls to learn to find real answers to real-life problems in the Bible. As an added feature, each of the four sections includes fun "outer-beauty tips" and faith-growing "inner-beauty tips."

In this important book, Shelley, Heather, Denise, and Terry use their unique position to minister to young women during the difficult teen years. Fun, personal, spiritual, and challenging are just a few of the words that describe this exceptional book. One of the most dynamic forces in contemporary Christian music, Point of Grace boldly reveals their deep concern and devotion to the next generation of young women by launching this tour and writing this book to inspire their millions of admirers.

- Publisher
You May Also Be Interested In
About "Girls of Grace"
Point Of Grace launches a new book and tour of the same title to give direction and hope to the next generation of young women. This unique book, designed to help young women grow in their Christian walk, offers practical teaching, personal stories, and biblical insight into the issues that mean the most to teenage girls: faith, family, friends, and boys. Each chapter includes a message from one of the four members of Point Of Grace, a key Scripture, and a special study guide to help teenage girls to learn to find real answers to real-life problems in the Bible. As an added feature, each of the four sections includes fun "outer-beauty tips" and faith-growing "inner-beauty tips."

In this important book, Shelley, Heather, Denise, and Terry use their unique position to minister to young women during the difficult teen years. Fun, personal, spiritual, and challenging are just a few of the words that describe this exceptional book. One of the most dynamic forces in contemporary Christian music, Point of Grace boldly reveals their deep concern and devotion to the next generation of young women by launching this tour and writing this book to inspire their millions of admirers.
- Publisher


Meet the Author
Point Of Grace
Point of Grace is Denise Jones, Heather Floyd, Terry Jones, and Shelley Breen.