Give Me 40 Days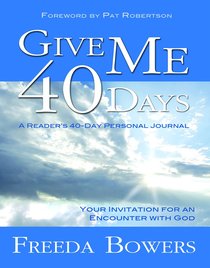 Give Me 40 Days is a timeless and practical devotional to help you put everything in your life (marriage children finances fears hopes and dreams) into a daily connection with Jesus. This book will teach and convince you why above all prayer is more important.
You May Also Be Interested In
About "Give Me 40 Days"
Give Me 40 Days is a timeless and practical devotional to help you put everything in your life (marriage children finances fears hopes and dreams) into a daily connection with Jesus. This book will teach and convince you why above all prayer is more important.
- Koorong


Meet the Author
Freeda Bowers
Freeda Bowers is dedicated to teching peopleof faith about the power of prayer, equipping believers to live prosperous and fruitful lives. In 1978, along with her husband, Claud, Freeda co-founded and helped build WACX-ý TV which has become one of the most powerful television stations in the Southeast United States. WACX-TV reaches over three million residents and the millions who visit the world-famous Central Florida attractions. Freeda ministers as a speaker at retreats, conferences and prayer summits across America and throughout the world. She has shaed the message of Give Me 40 Days in