Give Them Grace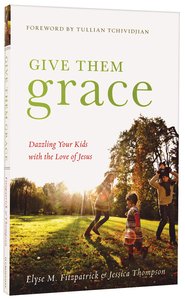 How are parents to raise children so they don't become Pharisees (legalists) or prodigals (rebels)? It's all about grace-filled, gospel-driven parenting, says the mother/daughter team of Elyse Fitzpatrick and Jessica Thompson. Christian parents, in their desire to raise godly children, can drift toward rule-centered discipline. There is, however, a far more effective method - a grace-motivated approach that begins with the glorious truth of God's love for sinners.

In Give Them Grace, parents will learn how to connect the benefits of the cross - especially regeneration, adoption, and justification - to their children's daily lives. Chapters address topics such as our inability to follow the law perfectly, God's forgiveness and love displayed at the cross, and what true heart obedience looks like. Fitzpatrick and Thompson also discuss discipline, dealing with popular culture, and evangelism as a way of life. Parents will find this book a great resource for raising grace-filled, Jesus-loving kids.

- Publisher
You May Also Be Interested In
About "Give Them Grace"
How are parents to raise children so they don't become Pharisees (legalists) or prodigals (rebels)? It's all about grace-filled, gospel-driven parenting, says the mother/daughter team of Elyse Fitzpatrick and Jessica Thompson. Christian parents, in their desire to raise godly children, can drift toward rule-centered discipline. There is, however, a far more effective method - a grace-motivated approach that begins with the glorious truth of God's love for sinners.

In Give Them Grace, parents will learn how to connect the benefits of the cross - especially regeneration, adoption, and justification - to their children's daily lives. Chapters address topics such as our inability to follow the law perfectly, God's forgiveness and love displayed at the cross, and what true heart obedience looks like. Fitzpatrick and Thompson also discuss discipline, dealing with popular culture, and evangelism as a way of life. Parents will find this book a great resource for raising grace-filled, Jesus-loving kids.

- Publisher
- Koorong

;So many Christian parents fall into the trap of asking the law to do in the hearts of their children what only grace can accomplish. Armed with threats, manipulation, and guilt, they attempt to create change that only the cross of Jesus Christ makes possible. It is so encouraging to read a parenting book that points parents to the grace of the cross and shows them how to be instruments of that grace in the lives of their children. ; -Paul Tripp, President, Paul Tripp Ministries ;In our human attempts to raise good and godly kids, we often forget that God extended his best grace to us. We are not full of grace on our own; we desperately need his grace. Elyse Fitzpatrick and her daughter, Jessica, provide a great tool to guide parents down the road of gracious parenting. I commend it to you. ; -James MacDonald, Senior Pastor, Harvest Bible Chapel, Chicagoland Area; radio teacher, Walk in the Word ;Elyse Fitzpatrick continues her never-ending quest to churn out grace-filled, Christ-centered, gospel-saturated books. And now she's done it again with her daughter, Jessica, coauthoring this excellent parenting book! If you are a parent, get online and order your copy of Give Them Gracetoday! ; -Deepak Reju,Pastor of Biblical Counseling and Families, Capitol Hill Baptist Church ;The authors-mother and daughter-remind us that parenting is not only hard but also impossible. Yes, we need to nurture, teach, discipline, train, pray, and model, but we must not depend on our parenting skills to change the hearts of our children. Instead, they counsel parents to ;rely on the faithfulness of Jesus, our great high priest, to change their hearts.' Grace for both parents and children flows through the pages of this book; I only wish I had read it at the beginning of my parenting instead of the end. ; -Rose Marie Miller, missionary; speaker; author, From Fear to Freedom ;This is not just a book on parenting; this is deep training in the gospel. Elyse Fitzpatrick shows parents how to model themselves after the heavenly Father, who changed his children not by wrath and the law but by grace. A lot of books talk about gospel-centeredness in theory; this book shows you how to apply it to one of life's most important relationships. ; -J. D. Greear, Senior Pastor, The Summit Church, Durham, North Carolina
- Publisher


All of us want to raise good kids. And we want to be good parents. But what exactly do we mean by "good?" And is "being good" really the point?
Mother-daughter team Elyse Fitzpatrick and Jessica Thompson contend that every way we try to make our kids "good" is simply an extension of Old Testament Law—a set of standards that is not only unable to save our children, but also powerless to change them.
No, rules are not the answer. What they need is GRACE.
We must tell our kids of the grace-giving God who freely adopts rebels and transforms them into loving sons and daughters. If this is not the message your children hear, if you are just telling them to "be good," then the gospel needs to transform your parenting too.
Give Them Grace is a revolutionary perspective on parenting that shows us how to receive the gospel afresh and give grace in abundance, helping our children know the dazzling love of Jesus and respond with heartfelt obedience.
- Publisher
Meet the Authors
Elyse Fitzpatrick
Elyse M. Fitzpatrick is not only a retreat and conference speaker but also a staff counselor at Grace Church in San Diego, which is part of the Sovereign Grace family of churches. She holds a Masters in biblical counseling from Trinity Theological Seminary, has nearly twenty years in biblical counseling experience, and has authored nearly a dozen books including Comforts from the Cross: Celebrating the Gospel One Day at a Time and Because He Loves Me: How Christ Transforms Our Daily Life. She is also the head of Women Helping Women Ministries..
Jessica Thompson
ELYSE M. FITZPATRICK is author of more than fifteen books on biblical counseling, family, and the Christian life, including Because He Loves Me .nbsp;JESSICA THOMPSON is a member of an Acts 29 church and has been homeschooling for the past two years. She is married and has three children.
Customer Reviews For "Give Them Grace"
Write Your Own Review
An important contribution to thinking about parenting
By Jeff,

Oct 26 2017
This book isn't a comprehensive handbook for Christian parenting but provides and important contribution by reminding parents that we too are recipients of grace and dependent upon the Lord for mercy. It gives good practical ideas for how we can talk about grace and with grace to our kids.
I found it very stimulating and would recommend it to every parent, even if only as a counterpoint to other Christian parenting resources.
---
VERY Important for all parents
By B.O.,

Nov 08 2016
This book makes you realize why children "fall away". Christianity has turned into a type of moralistic therapeutic deism with no salvation for children raised by parents who focus on behaviour instead of the Saviour. Children will either rebel and "fall away" or they will be self-righteous pharisees looking good on the outside all the while spiralling closer and closer to the eternal lake of fire while their delighted parents look on proudly.

Jesus said that you have to be born again. The only way for that to take place is for your children to hear and understand the Gospel of salvation through Jesus Christ's perfect life, death and resurrection, and to place all their faith in Him having fully paid to give them eternal life freely.

Focus on the Saviour. Don't turn Christianity into a program of behaviour modification which saves no-one. Only Christ can save. Your children need saving and so do you if you haven't trusted Him yet.


---
Understanding Grace
By Lisa,

May 25 2016
Give Them Grace appears to be a lovely parenting book.  I was excited to read it!  I first realized how the author incorrectly understands God's grace when I read the third paragraph of page 43 which speaks of a little girl named Rebekah who just displayed a good behavior.  QUOTE:  "Because we wonder whether Rebekah is regenerate, we won't thank her for obeying God's law.  If she isn't saved, she doesn't have the Holy Spirit, and she cannot choose to respond to God or obey his law from the heart."
I believe with certainty that my children who were baptized in the Father, Son  Holy Spirit, have a covenant with God.  They have an obligation to, in faith, obey Him.  In response, He promises to give them eternal life.  It is simple and beautiful . . . despite our sin, despite our good works, our salvation is not earned but given by the grace of God.  I give this book a one star rating based on this mistake.
{{review.title}}
By {{review.author.name}},

{{review.reviewCreatedDate | date:'MMM dd yyyy'}}

{{reviewdescription}}
{{review.text}}
---