Giving (Pursuing Spiritual Transformation Series)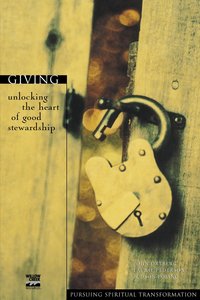 Jesus said more about money than just about any other topic. Clearly, it is an important issue--and a touchy one! Deep down, we know it is not a matter of what we earn but how we manage what we earn that shows our ultimate priorities.Giving demonstrates how good stewardship is more than a responsibility--it's an adventure. As you study the connection between your wallet and your heart, you'll learn how money management is a powerful tool for shaping your character. You'll discover how giving is as much a part of spiritual growth as prayer and Bible study. And you'll learn about the rewards of cultivating wise financial habits and a generous heart. Above all, you'll find out how a lifestyle of giving reflects the heart of God, who freely gives his best to you.Leader's guide included!Giving group sessions are: Money: Why Is It So Important to God?The Open Hands of GodTithing: A Training Exercise for the HeartBehind the Scenes of DebtWhat Is a Biblical Lifestyle?Cultivating a Heart of Co

- Publisher
You May Also Be Interested In
About "Giving (Pursuing Spiritual Transformation Series)"
Jesus said more about money than just about any other topic. Clearly, it is an important issue--and a touchy one! Deep down, we know it is not a matter of what we earn but how we manage what we earn that shows our ultimate priorities.Giving demonstrates how good stewardship is more than a responsibility--it's an adventure. As you study the connection between your wallet and your heart, you'll learn how money management is a powerful tool for shaping your character. You'll discover how giving is as much a part of spiritual growth as prayer and Bible study. And you'll learn about the rewards of cultivating wise financial habits and a generous heart. Above all, you'll find out how a lifestyle of giving reflects the heart of God, who freely gives his best to you.Leader's guide included!Giving group sessions are: Money: Why Is It So Important to God?The Open Hands of GodTithing: A Training Exercise for the HeartBehind the Scenes of DebtWhat Is a Biblical Lifestyle?Cultivating a Heart of Co
- Publisher


Meet the Authors
John Ortberg
John Ortberg is a teaching pastor at Menlo Park Presbyterian Church in Menlo Park, California, and previously served as teaching pastor at Willow Creek Community Church. He is the best-selling author of Everybody's Normal Till You Get to Know Them, If You Want to Walk on Water, You've Got to Get Out of the Boat, Love Beyond Reason, and Old Testament Challenge. He has written for Christianity Today and is a frequent contributor to Leadership Journal. His most recent publications include When the Game is Over, God is Closer than you Think, and Overcoming Your Shadow Mission.
-Editorial Review.
Laurie Pederson
Pederson is on staff at Willow Creek Community Church.
Judson Poling
Poling is co-author of the bestselling series, Walking With Poling is co-author of the bestselling series, Walking With God. God.
Table Of Contents
Pursuing Spiritual Transformation

Ten Core Values For Spiritual Formation

Giving: Unlocking The Heart Of Good Stewardship

Session One

Money: Why Is It So Important To God?

Session Two

The Open Hands Of God

Session Three

Tithing: A Training Exercise For The Heart

Session Four

Behind The Scenes Of Debt

Session Five

What Is A Biblical Lifestyle?

Session Six

Cultivating A Heart Of Compassion

Session Seven

The Chance Of A Lifetime

Leader's Guide
Other Titles In The "Pursuing Spiritual Transformation" Series View All
$15.99




Order now to secure your copy when our stock arrives. 0 Available. Expected to ship in 3 weeks from Australia.

Formats

$15.99




Order now to secure your copy when our stock arrives. eBook is Available. 0 Available. Expected to ship in 3 weeks from Australia.

Formats