Giving & Tithing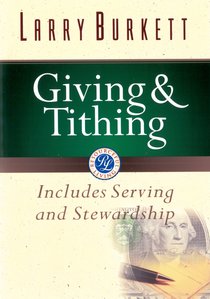 Larry Burkett lends his financial expertise to two handy quick-reference books for individuals and families, plus a video especially for married couples. Personal Finances gives the basics on creating and maintaining a budget. Giving & Tithing communicates the biblical instructions on giving sacrificially. A blend of dramatic vignettes and practical teaching, Two Masters will help husbands and wives break the bondage of overspending, debt and materialism.

- Publisher Handy quick-reference book, great for individuals and families. Readers will love this financial expert's explanation of the biblical instructions for giving sacrificially. Blend of dramatic vignettes and practical instruction.

- Publisher
You May Also Be Interested In
About "Giving & Tithing"
Larry Burkett lends his financial expertise to two handy quick-reference books for individuals and families, plus a video especially for married couples. Personal Finances gives the basics on creating and maintaining a budget. Giving & Tithing communicates the biblical instructions on giving sacrificially. A blend of dramatic vignettes and practical teaching, Two Masters will help husbands and wives break the bondage of overspending, debt and materialism.
- Publisher

Handy quick-reference book, great for individuals and families. Readers will love this financial expert's explanation of the biblical instructions for giving sacrificially. Blend of dramatic vignettes and practical instruction.
- Publisher


Meet the Author
Larry Burkett
Larry Burkett was the founder and president of Christian Financial Concepts, a non-profit organization dedicated to teaching Biblical principles of money management. He was the author of over seventy books, including The Coming Economic Earthquake, Your Finances in Changing Times, The Financial Planning Workbook, Investing for the Future, Financial Parenting, and Business by the Book, with totals in excess of 11 million. Larry's ministry also included a monthly Christian newsletter and four worldwide radio broadcasts, Money Matters, How to Manage Your Money, Money Watch, and A Money Minute, Larry died in 2003.