Global Church Planting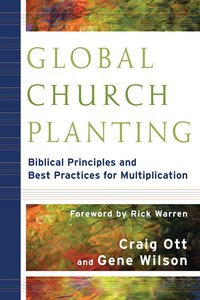 With nearly fifty years combined global church-planting experience, Craig Ott and Gene Wilson are well qualified to write a comprehensive, up-to-date guide for cross-cultural church planting. Combining substantive biblical principles and missiological understanding with practical insights, this book walks readers through the various models and development phases of church planting. Advocating methods that lead to church multiplication, the authors emphasize the role of the missionary church planter. They offer helpful reflection on current trends and provide best practices gathered from research and empirical findings around the globe. The book takes up a number of special issues not addressed in most church planting books, such as use of short-term teams, partnerships, and wise use of resources. Full of case studies and real examples from around the world, this practical text will benefit students, church planters, missionaries, and missional church readers.

- Publisher
You May Also Be Interested In
About "Global Church Planting"
With nearly fifty years combined global church-planting experience, Craig Ott and Gene Wilson are well qualified to write a comprehensive, up-to-date guide for cross-cultural church planting. Combining substantive biblical principles and missiological understanding with practical insights, this book walks readers through the various models and development phases of church planting. Advocating methods that lead to church multiplication, the authors emphasize the role of the missionary church planter. They offer helpful reflection on current trends and provide best practices gathered from research and empirical findings around the globe. The book takes up a number of special issues not addressed in most church planting books, such as use of short-term teams, partnerships, and wise use of resources. Full of case studies and real examples from around the world, this practical text will benefit students, church planters, missionaries, and missional church readers.
- Publisher


Meet the Authors
Craig Ott
Craig L. Ott (Ph.D., Trinity Evangelical Divinity School) is associate professor of mission and intercultural studies at Trinity Evangelical Divinity School in Deerfield, Illinois. He occupies the EFCA International Mission (EFCA-IM) Chair, which was established to better link the mission agency and seminary, integrating mission theory and practice.


After twenty-one years of missionary experience with the EFCA-IM in Germany as a church planter, consultant, and theological educator, he joined the Trinity faculty in 2002.
He is co-editor with Harold A. Netland of Globalizing Theology: Belief and Practice in an Era of World Christianity (Baker Academic, 2006) and is author of Das Trainingsprogramm fr Mitarbeiter (Brunnen, 1996) and most recently Global Church Planting: Biblical Principles and Best Practices for Multiplication (Bakerbooks, 2010) with Gene Wilson.
Koorong - Editorial Review.
Eugene A Wilson
Gene Wilson (D.Min., Westminster Theological Seminary) is church planting director for ReachGlobal, the international mission of the Evangelical Free Church of America, and director of their annual Cross-Cultural Planting School. He served as a church planter in Canada for eighteen years and a church planting trainer and coach in Latin America and the Caribbean for eight years. He has co-authored Global Church Planting: Biblical Principles and Best Practices for Multiplication with Craig Ott
Table Of Contents
With Nearly Fifty Years Combined Global Church-planting Experience, Craig Ott And Gene Wilson Are Well Qualified To Write A Comprehensive, Up-to-date Guide For Cross-cultural Church Planting. Combining Substantive Biblical Principles And Missiological Understanding With Practical Insights, This Book Walks Readers Through The Various Models And Development Phases Of Church Planting. Advocating Methods That Lead To Church Multiplication, The Authors Emphasize The Role Of The Missionary Church Planter. They Offer Helpful Reflection On Current Trends And Provide Best Practices Gathered From Research And Empirical Findings Around The Globe. The Book Takes Up A Number Of Special Issues Not Addressed In Most Church Planting Books, Such As Use Of Short-term Teams, Partnerships, And Wise Use Of Resources. Full Of Case Studies And Real Examples From Around The World, This Practical Text Will Benefit Students, Church Planters, Missionaries, And Missional Church Readers.