Globalizing Theology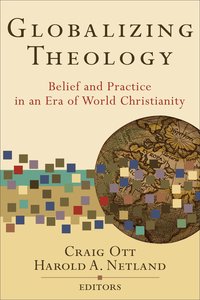 One of the most powerful forces in the twenty-first century is the increasing phenomenon of globalization. In nearly every realm of human activity, traditional boundaries are disappearing and people worldwide are more interconnected than ever. Christianity has also become more aware of global realities and the important role of the church in non-Western countries. Church leaders must grapple with the implications for theology and ministry in an ever-shrinking world.

Globalizing Theology is a groundbreaking book that addresses these issues of vital importance to the church. It contains articles from leading scholars, including Tite Tiénou, Kevin Vanhoozer, Charles Van Engen, M. Daniel Carroll R., Andrew Walls, Vinoth Ramachandra, and Paul Hiebert. Topics covered include the challenges that globalization brings to theology, how we can incorporate global perspectives into our thinking, and the effect a more global theology has on a variety of important issues.

- Publisher
You May Also Be Interested In
About "Globalizing Theology"
One of the most powerful forces in the twenty-first century is the increasing phenomenon of globalization. In nearly every realm of human activity, traditional boundaries are disappearing and people worldwide are more interconnected than ever. Christianity has also become more aware of global realities and the important role of the church in non-Western countries. Church leaders must grapple with the implications for theology and ministry in an ever-shrinking world.

Globalizing Theology is a groundbreaking book that addresses these issues of vital importance to the church. It contains articles from leading scholars, including Tite Tiénou, Kevin Vanhoozer, Charles Van Engen, M. Daniel Carroll R., Andrew Walls, Vinoth Ramachandra, and Paul Hiebert. Topics covered include the challenges that globalization brings to theology, how we can incorporate global perspectives into our thinking, and the effect a more global theology has on a variety of important issues.
- Publisher


Meet the Authors
Harold Netland
Harold A. Netland (Ph.D.,Claremont Graduate School, where he studied under Professor John Hick) is professor of philosophy of religion and intercultural studies and the Naomi A. Fausch chair of missions at Trinity Evangelical Divinity School in Deerfield, Illinois. Prior to coming to Trinity, Dr. Netland was a missionary in Japan with the Evangelical Free Church of America. Dr. Netland's areas of expertise include religious pluralism, epistemology of religion, apologetics, and missions in East Asia. He is a member of the Evangelical Philosophical Society, the Evangelical Theological Society, and the Society of Christian Philosophers.
Dr. Netland's published works include Dissonant Voices: Religious Pluralism and the Question of Truth; Encountering Religious Pluralism: The Challenge to Christian Faith and Mission and Spirituality without God: Buddhist Enlightenment and Christian Salvation, as well as numerous articles in such journals as Religious Studies, Faith and Philosophy, and Missiology. He also co-edited Christianity and the Religions (William Carey Library).
Craig Ott
Craig L. Ott (Ph.D., Trinity Evangelical Divinity School) is associate professor of mission and intercultural studies at Trinity Evangelical Divinity School in Deerfield, Illinois. He occupies the EFCA International Mission (EFCA-IM) Chair, which was established to better link the mission agency and seminary, integrating mission theory and practice.


After twenty-one years of missionary experience with the EFCA-IM in Germany as a church planter, consultant, and theological educator, he joined the Trinity faculty in 2002.
He is co-editor with Harold A. Netland of Globalizing Theology: Belief and Practice in an Era of World Christianity (Baker Academic, 2006) and is author of Das Trainingsprogramm fr Mitarbeiter (Brunnen, 1996) and most recently Global Church Planting: Biblical Principles and Best Practices for Multiplication (Bakerbooks, 2010) with Gene Wilson.
Koorong - Editorial Review.