GNB Sunrise Bible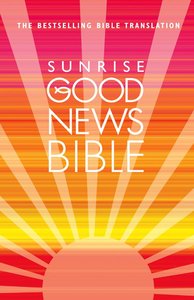 You May Also Be Interested In
About "GNB Sunrise Bible"
The Sunrise Good News Bible offers the perfect combination of readable, authoritative Bible text with a unique range of extra features designed to help you get the most out of the Bible.
This new, high-quality ebook includes:
? Unique line drawings throughout
? Instant links to the best-known stories, characters, events and more
? Ultra-clear design of text and maps
? Table of contents for finding book, chapter and verse
? ?Search? tool for finding specific passages using key words
? Cross-referenced footnotes throughout
? British text and adjustable font sizes for easy readability
? Tools for highlighting, bookmarking, and writing notes
? Information and guidance on reading the Bible
? Old and New Testament maps
With over 150 million copies sold worldwide, the Good News Bible is relevant, readable, and reliable.
? The UK's bestselling Bible translation, available as an ebook for the first time
? Easy navigation and cross-referencing make it faster than ever to search and find passages
? Extra functions such as adjustable font size, bookmarking and note-writing make the ebook user-friendly and interactive
? The Good News Bible is the UK's leading schools Bible ? used in 75% of secondary schools
? New maps, guidance and helpful information make the Bible easier to get into than ever before
? Reliable, easy-to-read translation
? Line drawings bring the stories and teachings to life.
- Publisher