God and Contemporary Science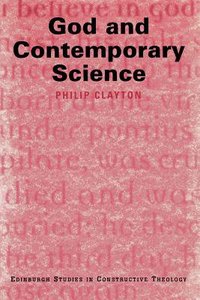 This text is part of the New Studies in Constructive Theology series. It asks critical questions about the divine action in the world, addressing such issues as miraculous events. Recent work in cosmology, quantum physics and the brain sciences offers opening for a theology of divine action. This is a systematic survey of the relationship between natural science and theology.

- Publisher In a discipline which is growing weary of critical analysis, this series returns to the original texts & surveys the classic works in theology, relating past thought with areas of contemporary concern in an innovative & constructive way.

- Publisher
You May Also Be Interested In
About "God and Contemporary Science"
This text is part of the New Studies in Constructive Theology series. It asks critical questions about the divine action in the world, addressing such issues as miraculous events. Recent work in cosmology, quantum physics and the brain sciences offers opening for a theology of divine action. This is a systematic survey of the relationship between natural science and theology.
- Publisher

In a discipline which is growing weary of critical analysis, this series returns to the original texts & surveys the classic works in theology, relating past thought with areas of contemporary concern in an innovative & constructive way.
- Publisher


Meet the Author
Philip Clayton
Philip Clayton is Ingraham (M.A., M.Phil., Ph.D., Yale University) is Professor of Theology at the Claremont School of Theology and professor of philosophy and religion at Claremont Graduate University in Claremont, California. He is also the author of Explanation from Physics to Philosophy: An Essay in Rationality and Religion (Yale) and the Templeton Prize,winning book God and Contemporary Science (Eerdmans).Dr. Clayton's quest is to develop a constructive Christian theology in dialogue with metaphysics, modern philosophy, and science. The demands of this task have led to his work and publications in the theory of knowledge; the history of philosophy and theology; the philosophy of science; physics, evolutionary biology and the neurosciences; comparative theology; and constructive metaphysics. A panentheist, he defends a form of process theology that is hypothetical, dialogical and pluralistic as evident in the edited work In Whom We Live and Move and Have Our Being: Panentheistic Reflections on God's Presence in a Scientific World and The Problem of God in Modern Thought .
Table Of Contents
Systematic Theology And Post-modernism. Part 1 The God Who Acts - Towards

A Biblical Theology Of God And The World: What Is This World Thou Hast

Made? - God's Relation To The World In The Hebrew Bible

Christology And Creation - Struggling With The Particularity Of The

Christian Story

Rethinking The Relation Of God And The World - Panentheism And The

Contribution Of Philosophy. Part 2 The New Scientific Context: Creation

And Cosmology - What Theologians Can And Cannot Learn From Scientific

Cosmology. Part 3 Towards A Theology Of Divine Action: The Presumption Of

Naturalism

Scientific Causality, Divine Causality

Understanding Human And Divine Agency.