God Attachment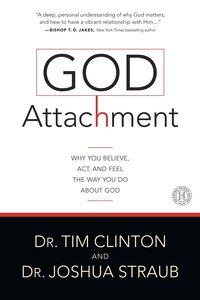 God. Whether one loves him, hates him, denies or defies him, it is hard to deny the worldwide fascination with God. This book explores why and suggests a personal response to the God Attachment in all of us.

Why has the human race, the world over, been so fascinated with ... some might say obsessed with ... God? This built-in attachment to God crosses religious, political, ethnic, cultural, and generational barriers.

Drs. Clinton and Straub reveal fascinating research about this worldwide phenomenon. From avoidant, anxious, and fearful to secure and personal, the range of responses to our internal attachment to God has a profound influence on the way we do relationships, intimacy, and life choices.

With helpful self-assessments, intriguing questions, and surprising revelations, this book moves from worldwide statistics to personal challenge, offering the means to become securely attached to God in a way that can have positive effects on our attitudes, approach to life, and overall life satisfaction.

- Publisher
You May Also Be Interested In
About "God Attachment"
God. Whether one loves him, hates him, denies or defies him, it is hard to deny the worldwide fascination with God. This book explores why and suggests a personal response to the God Attachment in all of us.

Why has the human race, the world over, been so fascinated with ... some might say obsessed with ... God? This built-in attachment to God crosses religious, political, ethnic, cultural, and generational barriers.

Drs. Clinton and Straub reveal fascinating research about this worldwide phenomenon. From avoidant, anxious, and fearful to secure and personal, the range of responses to our internal attachment to God has a profound influence on the way we do relationships, intimacy, and life choices.

With helpful self-assessments, intriguing questions, and surprising revelations, this book moves from worldwide statistics to personal challenge, offering the means to become securely attached to God in a way that can have positive effects on our attitudes, approach to life, and overall life satisfaction.
- Publisher


Meet the Authors
Tim Clinton
Dr. Tim Clinton,(Ed.D., The College of William and Mary, LPC, LMFT) is president of the American Association of Christian Counselors. He is professor of Counseling and Pastoral Care at Liberty University and is executive director of the Liberty University Center for Counseling and Family Studies
Dr Clinton is the Executive Editor and co-author of Caring for People God's Way: A New Guide to Christian Counseling and Competent Christian Counseling: Foundations and Practice of Compassionate Soul Care.
He was Executive Editor and a primary writer for The Soul Care Bible and the author of Attachments: Unlock the Secret to Loving and Being Loved; Why You Do the Things You Do: The Secret to Healthy Relationships, Loving Your Child Too Much: Staying Close to your Kids without Overprotecting, Overindulging, or Overcontrolling and Turn Your Life Around: Breaking Free from Your Past and Discovering God's Dream for You.
Joshua Straub
Joshua Straub,is an author, speaker, and family advocate. He has trained thousands of professionals in Critical Incident Stress Management and has used his experience and knowledge in the area of trauma to help people around the world, most notably in Rwanda recover from the 1994 genocide.
Previously, Josh served as the Senior Director of Professional Development for the AACC (American Association of Christian Counselors). He is currently assistant professor at Liberty University Online. He serves on the teaching team at Woodland Hills Family Church (Branson, MO) and is married to Christi. Together, they are the proud parents of a son and daughter - Landon and Kennedy.