God For the Rest of Us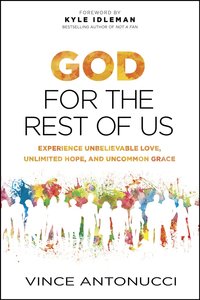 What does it feel like to be loved by a limitless God? God for the Rest of Us will wake you up to the outrageous, extravagant, and sometimes even scandalous love of God for the rest of us?whether you think you are unfit or a misfit, an underdog or overlooked, the least or the lost, the left behind or the left out. Vince Antonucci, a pastor who reaches out to people on the Las Vegas Strip, has seen it all?and more important, he has seen God's love in action on each and every street corner. Vince is convinced that too many of us underestimate God and the scope of his love.

God for the Rest of Us is Vince's story of how he found God's breathtaking love at work among the people often forgotten and disdained by this world. Is God for the people who are forgotten and left out? Is He for the guy who betrayed his wife and left his kids? Is He for the doubters? The skeptics? The atheists? The answers to these questions can be found in the lives of people Vince meets. As you read their stories of transformation, you'll begin to imagine how your life could be changed if you truly believe that you are loved with a perfect love. You'll catch a glimpse of God?who is greater than your wildest dreams.

- Publisher
You May Also Be Interested In
About "God For the Rest of Us"
What does it feel like to be loved by a limitless God? God for the Rest of Us will wake you up to the outrageous, extravagant, and sometimes even scandalous love of God for the rest of us?whether you think you are unfit or a misfit, an underdog or overlooked, the least or the lost, the left behind or the left out. Vince Antonucci, a pastor who reaches out to people on the Las Vegas Strip, has seen it all?and more important, he has seen God's love in action on each and every street corner. Vince is convinced that too many of us underestimate God and the scope of his love.

God for the Rest of Us is Vince's story of how he found God's breathtaking love at work among the people often forgotten and disdained by this world. Is God for the people who are forgotten and left out? Is He for the guy who betrayed his wife and left his kids? Is He for the doubters? The skeptics? The atheists? The answers to these questions can be found in the lives of people Vince meets. As you read their stories of transformation, you'll begin to imagine how your life could be changed if you truly believe that you are loved with a perfect love. You'll catch a glimpse of God?who is greater than your wildest dreams.
- Publisher


Meet the Authors
Vince Antonucci
Vince Antonucci is the founder and lead pastor of Verve, an innovative church plant for the unchurched on the Las Vegas strip. Vince's passion is creatively communicating biblical truth to help people find God, and he also serves with the Emerging Leadership Initiative (ELI). He is the author of I Became a Christian and All I Got Was This Lousy T-Shirt and Guerrilla Lovers: Changing the World with Revolutionary Compassion.
Kyle Idleman
Kyle Idleman is the Teaching Pastor at Southeast Christian Church in Louisville, Kentucky, the 5th largest church in America. He is the author and presenter of the Award-winning video curriculum series H2O: A Journey of Faith and The Easter Experience. Kyle and his wife, DesiRae, have four young children.