God Guy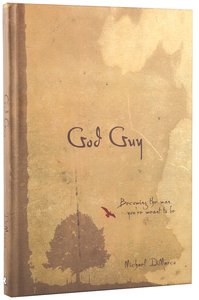 $

19.99

$

15.99
You Save: $4.00 (20%)
Hardback
When you become a God Guy, your life will never be the same.The God Guy is the most amazing guy on earth. He loves God with all his heart, soul, mind, and strength. He knows where he came from and where he is going. His life isn't perfect--sometimes it's messy. But what makes him different from just any guy is his relationship with the Creator of the universe. A God Guy isn't just interested in God, he's connected to him.Learning to be a God Guy in every area of your life doesn't have to be hard. Find out how a God Guy:'loves'finds true happiness'knows himself'knows how to communicate 'and knows GodTake a look at the life of a God Guy and see how becoming one will change your life for the better.Michael DiMarco is the CEO of Hungry Planet, a company that creates cutting-edge books that connect with the multitasking mind-set. Michael is the coauthor with his wife Hayley of Marriable, The Art of Rejection, The Art of the First Date, B4UD8, and Almost Sex.

- Publisher For more than half a decade, Hungry Planet has been mentoring teens through books on topics ranging from dating and sex to modesty and meanness. Many of those resources have aimed squarely at the needs of teen girls--with Hayley DiMarco playing a big sister role to thousands of them.

Now it's time for the guys to have a book that's focused entirely on what it means to apply God's truth to the issues that matter most to them. In God Guy, Michael DiMarco helps young males realize that being a man is not just related to age, but rather developing the character and principles befitting a man of God.

- Publisher
You May Also Be Interested In
About "God Guy"
When you become a God Guy, your life will never be the same.The God Guy is the most amazing guy on earth. He loves God with all his heart, soul, mind, and strength. He knows where he came from and where he is going. His life isn't perfect--sometimes it's messy. But what makes him different from just any guy is his relationship with the Creator of the universe. A God Guy isn't just interested in God, he's connected to him.Learning to be a God Guy in every area of your life doesn't have to be hard. Find out how a God Guy:'loves'finds true happiness'knows himself'knows how to communicate 'and knows GodTake a look at the life of a God Guy and see how becoming one will change your life for the better.Michael DiMarco is the CEO of Hungry Planet, a company that creates cutting-edge books that connect with the multitasking mind-set. Michael is the coauthor with his wife Hayley of Marriable, The Art of Rejection, The Art of the First Date, B4UD8, and Almost Sex.
- Publisher

For more than half a decade, Hungry Planet has been mentoring teens through books on topics ranging from dating and sex to modesty and meanness. Many of those resources have aimed squarely at the needs of teen girls--with Hayley DiMarco playing a big sister role to thousands of them.

Now it's time for the guys to have a book that's focused entirely on what it means to apply God's truth to the issues that matter most to them. In God Guy, Michael DiMarco helps young males realize that being a man is not just related to age, but rather developing the character and principles befitting a man of God.
- Publisher


Meet the Author
Michael Dimarco
Hayley DiMarco is chief creative officer and founder of Hungry Planet, where she writes and creates cutting-edge books that connect with the multitasking mind-set. She has written and co-written numerous bestselling books for both teens and adults, including Dateable, Mean Girls, Sexy Girls, and Technical Virgin. She and her husband, Michael, live in Nashville, Tennessee.