God is a Matchmaker, Revised and Expanded Edition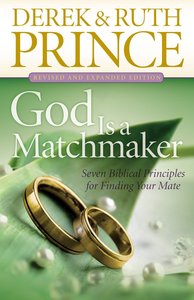 God is the divine matchmaker, and this is His plan for you.

Marriage is God's sacred creation, a beautiful gift for His children. But too often we fail to leave the choice or the timing to Him.

In this revised and expanded edition of his bestselling book, well-known Bible teacher Derek Prince and his wife, Ruth, reveal God's true plan for you and your future spouse. In addition to sharing their own real-life love story, Derek lays out seven biblical steps to finding your mate. He will also help you answer tough questions, such as

· How can I know if it is God's will for me to marry?
· How can I prepare myself for marriage?
· How can I find the mate God has appointed for me?
· What is God's plan for remarriage?

Full of inspiring testimonies from people who found their perfect matches by following these principles, God Is a Matchmaker also offers special counsel and material for parents, pastors, counselors, teachers and youth ministers involved with those preparing for this exciting time of life.

When you discover God's pattern for marriage, you will experience His perfect gift: a match truly made in heaven.

- Publisher
You May Also Be Interested In
About "God is a Matchmaker, Revised and Expanded Edition"
God is the divine matchmaker, and this is His plan for you.

Marriage is God's sacred creation, a beautiful gift for His children. But too often we fail to leave the choice or the timing to Him.

In this revised and expanded edition of his bestselling book, well-known Bible teacher Derek Prince and his wife, Ruth, reveal God's true plan for you and your future spouse. In addition to sharing their own real-life love story, Derek lays out seven biblical steps to finding your mate. He will also help you answer tough questions, such as

· How can I know if it is God's will for me to marry?
· How can I prepare myself for marriage?
· How can I find the mate God has appointed for me?
· What is God's plan for remarriage?

Full of inspiring testimonies from people who found their perfect matches by following these principles, God Is a Matchmaker also offers special counsel and material for parents, pastors, counselors, teachers and youth ministers involved with those preparing for this exciting time of life.

When you discover God's pattern for marriage, you will experience His perfect gift: a match truly made in heaven.
- Publisher


Meet the Authors
Derek Prince
Derek Prince was born in India of British parents in 1915. He was educated at Eton College and Cambridge University, England, where he held a Fellowship in Ancient and Modern Philosophy at King's College. While serving with the British army in World War II, he began to study the Bible and experienced a life-changing encounter with Jesus Christ. He then devoted his life to studying and teaching the Bible.


Derek Prince taught and ministered on six continents for over seven decades, imparting God's revealed truth, praying for the sick and afflicted, and sharing his prophetic insights into world events in the light of Scripture. His daily radio broadcast Derek Prince Legacy Radio (formerly Keys to Successful Living), reaches more than half the world. He was the author of over 80 books, over 600 audio teachings, and over 100 video teachings, many of which have been translated and published in other languages. Derek Prince died in 2003 in Jerusalem.
Ruth Prince
Prince is working as an independent researcher in the United States.