God is on the Cross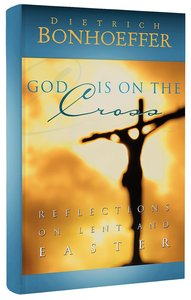 These forty stirring devotions will guide and inspire readers as they move thematically through the weeks of Lent and Easter, encountering themes of prayerful reflection, self-denial, temptation, suffering, and the meaning of the cross. Passages from Dietrich Bonhoeffer's letters and sermons provide special encouragement as readers prepare themselves spiritually for Holy Week and Easter Sunday. Supplemented by an informative introduction to Bonhoeffer's life and a Scripture passage for each day of the season, these daily devotions are moving reminders of the true gift of Christ on the cross.

- Publisher
You May Also Be Interested In
About "God is on the Cross"
These forty stirring devotions will guide and inspire readers as they move thematically through the weeks of Lent and Easter, encountering themes of prayerful reflection, self-denial, temptation, suffering, and the meaning of the cross. Passages from Dietrich Bonhoeffer's letters and sermons provide special encouragement as readers prepare themselves spiritually for Holy Week and Easter Sunday. Supplemented by an informative introduction to Bonhoeffer's life and a Scripture passage for each day of the season, these daily devotions are moving reminders of the true gift of Christ on the cross.
- Publisher


Meet the Author
Dietrich Bonhoeffer
Dietrich Bonhoeffer (1906-1945) was a German Lutheran pastor, theologian (he received his doctorate in theology at the age of only 21), participant in the German Resistance movement against Nazism, and a founding member of the Confessing Church. He was involved in plots planned by members of the Abwehr (the German Military Intelligence Office) to assassinate Adolf Hitler.
He was arrested in March 1943, imprisoned, and eventually hanged just before the end of the World War II in Europe.
Some of his selected published works include Creation and Fall: A Theological Exposition of Genesis 1-3; Life Together; The Cost of Discipleship; Ethics; Christ the Center and Letters and Papers from Prison.
Excerpt
Excerpt from: God is on the Cross
"This is my second Passiontide here. When people suggest in their letters . . . that I'm 'suffering' here, I reject the thought. It seems to me a profanation. These things mustn't be dramatized. I doubt very much whether I'm 'suffering' any more than you, or most people, are suffering today. Of course, a great deal here is horrible, but where isn't it? . . . No, suffering must be something quite different, and have a quite different dimension, from what I've so far experienced." ?from Letter to Eberhard Bethge from Tegel prison, 9 March 1944