God is Relevant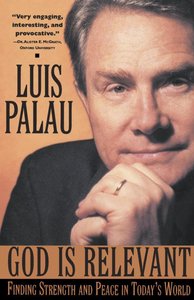 Contents11 chapters in 199 pages

- Publisher Not since Billy Graham has there been a minister with the stature and international reputation of Dr. Luis Palau. Over the past thirty years, he has gained an audience of tens of millions of people around the globe, and many regard him as the next major force in U.S. evangelism. God Is Relevant, Dr. Palau's first book for a trade audience, encapsulates his essential message to world, showing how God is not an outdated idea but a powerful force that can transform our troubled times and guide us into the coming millennium. Structured around three questions, "Is God relevant?," "How is God relevant?," and "Is God always relevant?," this work directly and sympathetically answers the doubts many have about the presence of God.

- Publisher
You May Also Be Interested In
About "God is Relevant"
Contents11 chapters in 199 pages
- Publisher

Not since Billy Graham has there been a minister with the stature and international reputation of Dr. Luis Palau. Over the past thirty years, he has gained an audience of tens of millions of people around the globe, and many regard him as the next major force in U.S. evangelism. God Is Relevant, Dr. Palau's first book for a trade audience, encapsulates his essential message to world, showing how God is not an outdated idea but a powerful force that can transform our troubled times and guide us into the coming millennium. Structured around three questions, "Is God relevant?," "How is God relevant?," and "Is God always relevant?," this work directly and sympathetically answers the doubts many have about the presence of God.
- Publisher


Meet the Author
Luis Palau
Luis Palau was born in Argentina and became a U.S. citizen after coming to America for graduate studies in theology at Multnomah Biblical Seminary, Portland, Oregon. He is the founder of the Luis Palau Evangelist Association and the author of 45 books and booklets in English and Spanish, including High Definition Life (Revell Publishing, 2005), It's a God Thing (Doubleday, 2001), Where Is God When Bad Things Happen? (Doubleday, 1999), God Is Relevant (Doubleday, 1997) and The Only Hope for America (Crossway Book, 1996), as well as, a remarkable dialogue with Zhao Qizheng, a Chinese atheist which has been published by Chinese newspapers Riverside Talks: A Friendly Dialogue Between an Atheist and a Christian.