God Loves Sex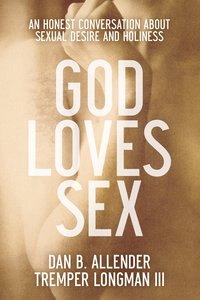 We live in a sexually mad world where God's gift of sex has been distorted through pornography, promiscuity, prostitution, abuse, trafficking, and rape. The church's position on sexual matters has been made clear throughout history: all sexual activity outside the boundaries of Christian marriage is sin. But rarely has the church honestly addressed the true needs of Christians who are struggling with sexual desires they believe to be counter to the Bible. So we hide our struggles and pretend to live above the erotic fray, or else we cozy up to the culture's redefinition of which sins are acceptable. But what does the Bible really say about sexual desire and sexual intimacy?

God Loves Sex offers a truly liberating, godly view of holy sensuality by recovering the clear meaning of the Song of Songs as God-sanctioned eroticism. Then it uses that lens to answer questions posed by a fictional new Christian struggling with expectations of sexual purity. It asks provocative questions, such as What does it mean to be both holy and filled with rich sexual desire? and How can our sexual struggles take us deeper into the purposes of God?

Pairing psychological insight with sound biblical scholarship, Allender and Longman bring it all out into the open, allowing Christians of any age and any marital status to discover sex the way God meant it to be.

- Publisher
You May Also Be Interested In
About "God Loves Sex"
We live in a sexually mad world where God's gift of sex has been distorted through pornography, promiscuity, prostitution, abuse, trafficking, and rape. The church's position on sexual matters has been made clear throughout history: all sexual activity outside the boundaries of Christian marriage is sin. But rarely has the church honestly addressed the true needs of Christians who are struggling with sexual desires they believe to be counter to the Bible. So we hide our struggles and pretend to live above the erotic fray, or else we cozy up to the culture's redefinition of which sins are acceptable. But what does the Bible really say about sexual desire and sexual intimacy?

God Loves Sex offers a truly liberating, godly view of holy sensuality by recovering the clear meaning of the Song of Songs as God-sanctioned eroticism. Then it uses that lens to answer questions posed by a fictional new Christian struggling with expectations of sexual purity. It asks provocative questions, such as What does it mean to be both holy and filled with rich sexual desire? and How can our sexual struggles take us deeper into the purposes of God?

Pairing psychological insight with sound biblical scholarship, Allender and Longman bring it all out into the open, allowing Christians of any age and any marital status to discover sex the way God meant it to be.
- Publisher


Meet the Authors
Dan Allender
Dan B. Allender (PhD.,counseling psychology, Michigan State University) is a fly fisherman who also serves as professor of counseling and president of Mars Hill Graduate School in Seattle, Washington. He taught previously at Grace Theological Seminary and Colorado Christian University. A speaker and writer, his books include The Healing Path, To Be Told, How Children Raise Parents, The Wounded Heart and Leading with a Limp. With Tremper Longman, he wrote Bold Love, Cry of the Soul, Intimate Allies and Intimate Marriage Bible Studies.
-Editorial Review.
Tremper Longman (Iii)
Tremper Longman III (Ph.D., Yale University) is Robert H. Gundry Professor of Biblical Studies at Westmont College in Santa Barbara, California. He is also Visiting Professor of Old Testament at Mars Hill Graduate School, Westminster Theological Seminary and adjunct at Fuller Theological Seminary.
He is the author of commentaries on The Book of Job and Proverbs (Baker Commentary on the Old Testament Wisdom and Psalms); Exodus (The Two Horizons Old Testament Commentary) and Jeremiah, Lamentations (New International Biblical Commentary), Daniel (New Internatuional Version Application Commentary), Ecclesiastes and Song of Songs (New International Commentary on the Old Testament/ Cornerstone Commentary).
Longman is the author of How to Read Genesis; How to Read the Psalms; How to Read Proverbs; How to Read Exodus and Literary Approaches to Biblical Interpretation, and co-editor of A Complete Literary Guide to the Bible and co-author with Dan Allender of Bold Love, Cry of the Soul, Intimate Allies; The Intimate Mystery and The Intimate Marriage Bible Studies.
Koorong -Editorial Review.