God Loves Single Moms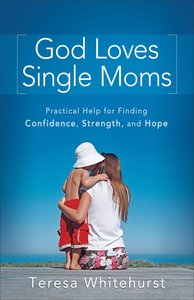 Written by a psychologist who's successfully navigated single motherhood herself, this book helps single moms believe they and their families deserve the best life has to offer. Packed with practical tips, smart strategies, and ways to improve the well-being of single moms and their children, this book shows single moms how to improve their leadership and parenting skills. It tackles pressing issues such as self-care, a support network, organizing, finances, discipline, and more. Teresa Whitehurst reminds single moms that they don't need to be overwhelmed and that God loves them, is on their side, and wants to guide and support them every step of the way. While they may get weary, they need never feel alone.

- Publisher
You May Also Be Interested In
About "God Loves Single Moms"
Written by a psychologist who's successfully navigated single motherhood herself, this book helps single moms believe they and their families deserve the best life has to offer. Packed with practical tips, smart strategies, and ways to improve the well-being of single moms and their children, this book shows single moms how to improve their leadership and parenting skills. It tackles pressing issues such as self-care, a support network, organizing, finances, discipline, and more. Teresa Whitehurst reminds single moms that they don't need to be overwhelmed and that God loves them, is on their side, and wants to guide and support them every step of the way. While they may get weary, they need never feel alone.
- Publisher


Meet the Author
Teresa Whitehurst
Teresa Whitehurst (Ph.D. Vanderbilt) is a clinical psychologist and a clinical instructor at Harvard Medical School. She writes and speaks extensively on parenting issues.