God Our Teacher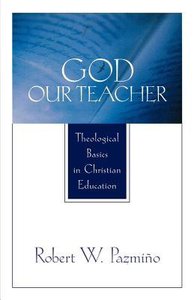 "Here is a book that can be read for many purposes: as a substantial review of the calling of education in the mission of the church, as a challenging text on the theological foundations of Christian education, and as a stretching exercise for those who are serious about the educational and missional aspects of ministry."-Ted Ward, Michigan State University and Trinity Evangelical Divinity School, emeritus "A refreshing and wise look at the teaching ministry of the church. Pazmio has done well at grounding his reflections in a winsome and irenic historic orthodoxy."-James Wilhoit, Wheaton College"God Our Teacher explores the important roles of the Trinity in teaching ministries. Pazmio serves the reader well in his call for balancing unity and diversity and engaging the world in a holistic ministry of teaching."-Cathy Stonehouse, Asbury Theological Seminary"God Our Teacher presents a balanced view that is continually framed by biblical boundaries and demonstrates Pazmio's encyclopedic grasp of the resources that have stimulated his thinking."-Julie Gorman, Fuller Theological Seminary"God Our Teacher is a carefully crafted, robust, and theologically grounded vision for Christian education. A worthwhile read for anyone committed to the teaching ministry of the church."-Robert Drovdahl, Seattle Pacific University"God Our Teacher is different from typical books on teaching and learning in that it begins with Scripture and presents a theologically informed perspective for Christian education."-Dennis E. Williams, Southern Baptist Theological Seminary"No contemporary educator more creatively develops teaching metaphors or is better able to design theologically strong models for Christian education than Robert Pazmio."-Marlene LeFever, author of Creative Teaching Methods and Learning StylesRobert W. Pazmio (Ed.D., Columbia University) is Valeria Stone Professor of Christian Education at Andover Newton Theological School.

- Publisher A topic of frequent discussion in religious education circles is the relationship between theology and practice. How does Christian theology work itself out in the teaching ministries of the church? Noted Christian education thinker Robert Pazmino contemplates this debate and offers a contemporary overview of the messages theology brings to Christian education. Sensitive to today's expanding global culture, God Our Teacher reaffirms the essential role theology plays in developing educational practices and conventions, and carefully fleshes out what it means to use the Trinity as a model for ordering educational thought and practice. This book will be welcomed by all those involved in fostering the growth and development of Christian education.

- Publisher
You May Also Be Interested In
About "God Our Teacher"
"Here is a book that can be read for many purposes: as a substantial review of the calling of education in the mission of the church, as a challenging text on the theological foundations of Christian education, and as a stretching exercise for those who are serious about the educational and missional aspects of ministry."-Ted Ward, Michigan State University and Trinity Evangelical Divinity School, emeritus "A refreshing and wise look at the teaching ministry of the church. Pazmio has done well at grounding his reflections in a winsome and irenic historic orthodoxy."-James Wilhoit, Wheaton College"God Our Teacher explores the important roles of the Trinity in teaching ministries. Pazmio serves the reader well in his call for balancing unity and diversity and engaging the world in a holistic ministry of teaching."-Cathy Stonehouse, Asbury Theological Seminary"God Our Teacher presents a balanced view that is continually framed by biblical boundaries and demonstrates Pazmio's encyclopedic grasp of the resources that have stimulated his thinking."-Julie Gorman, Fuller Theological Seminary"God Our Teacher is a carefully crafted, robust, and theologically grounded vision for Christian education. A worthwhile read for anyone committed to the teaching ministry of the church."-Robert Drovdahl, Seattle Pacific University"God Our Teacher is different from typical books on teaching and learning in that it begins with Scripture and presents a theologically informed perspective for Christian education."-Dennis E. Williams, Southern Baptist Theological Seminary"No contemporary educator more creatively develops teaching metaphors or is better able to design theologically strong models for Christian education than Robert Pazmio."-Marlene LeFever, author of Creative Teaching Methods and Learning StylesRobert W. Pazmio (Ed.D., Columbia University) is Valeria Stone Professor of Christian Education at Andover Newton Theological School.
- Publisher

A topic of frequent discussion in religious education circles is the relationship between theology and practice. How does Christian theology work itself out in the teaching ministries of the church? Noted Christian education thinker Robert Pazmino contemplates this debate and offers a contemporary overview of the messages theology brings to Christian education. Sensitive to today's expanding global culture, God Our Teacher reaffirms the essential role theology plays in developing educational practices and conventions, and carefully fleshes out what it means to use the Trinity as a model for ordering educational thought and practice. This book will be welcomed by all those involved in fostering the growth and development of Christian education.
- Publisher


Meet the Author
Robert W Pazmino
Robert W. Pazmino (EdD, Columbia University) is the Valeria Stone Professor of Christian Education at Andover Newton Theological School in Newton, Massachusetts. His many works include God Our Teacher and By What Authority Do We Teach? He is also a national consultant for the Wabash Center for Teaching and Learning.