God Speaks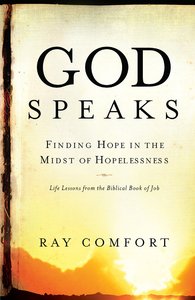 :Answers to Life's Questions From the Book of Job

When pain or tragedy strikes, the first question most of us ask is, "Why?" We're in good company. The biblical book of Job tells the story of a man who lost everything--his children, his wealth, and even his health--and also wanted to know why. Why should he, a God-fearing man, suffer so much? Why did God allow it?

Job did not get the answer he expected. In fact, God began to ask questions of His own--70 questions, to be exact. And in His response to a grieving, broken man, we can catch glimpses of hope in the midst of our own suffering. Join Ray Comfort as he journeys into Job's extraordinary story. You'll find that, when God Speaks, He will transform you and forever change your perspective on suffering and faith.

- Publisher
You May Also Be Interested In
About "God Speaks"
:Answers to Life's Questions From the Book of Job

When pain or tragedy strikes, the first question most of us ask is, "Why?" We're in good company. The biblical book of Job tells the story of a man who lost everything--his children, his wealth, and even his health--and also wanted to know why. Why should he, a God-fearing man, suffer so much? Why did God allow it?

Job did not get the answer he expected. In fact, God began to ask questions of His own--70 questions, to be exact. And in His response to a grieving, broken man, we can catch glimpses of hope in the midst of our own suffering. Join Ray Comfort as he journeys into Job's extraordinary story. You'll find that, when God Speaks, He will transform you and forever change your perspective on suffering and faith.
- Publisher


Meet the Author
Ray Comfort
Ray Comfort of Living Waters Publications (LWP) and Way of the Master is an internationally-renowned Christian evangelist, speaker and author. He has written over 40 books and LWP produces and distributes close to 6 million tracts each year (that practically give themselves away) and also offers the Excellence in Evangelism video series. His ministry has been commended by Franklin Graham, Josh McDowell, Dr. D. James Kennedy, Bill Gothard, David Wilkerson, Joni Eareckson Tada, and many other Christian leaders.
Most recently he has authored Moody Gold and Conquer Your Fear, Share Your Faith and Comfort Food.