God Tells the Man Who Cares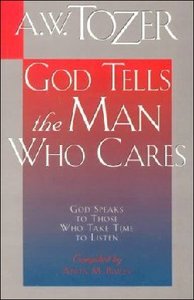 Tozer became best known during his years as the editor of The Alliance Witness. This book contains 39 of his incisive editorials designed for people who take time to listen to God. Titles include "The Responsibility of Leadership", "Divisions Are Not Always Bad" and "Pragmatism Goes to Church".

- Publisher 214 Pages

- Publisher Tozer beckons us to hear God's call and pursue a right relationship with Him. From his meditation on Psalm 46:10 ("Be still and know that I am God") to his reflections on Christian service throughout history, Tozer highlights examples of servanthood worthy of emulation. As Tozer himself said, "We need more men who can hear the words of God and translate them into human speech." God Tells the Man Who Cares is exemplary of the work of a man who has the "Spirit's gift and special enabling to be the voice to mankind."

- Publisher
You May Also Be Interested In
About "God Tells the Man Who Cares"
Tozer became best known during his years as the editor of The Alliance Witness. This book contains 39 of his incisive editorials designed for people who take time to listen to God. Titles include "The Responsibility of Leadership", "Divisions Are Not Always Bad" and "Pragmatism Goes to Church".
- Publisher

214 Pages
- Publisher

Tozer beckons us to hear God's call and pursue a right relationship with Him. From his meditation on Psalm 46:10 ("Be still and know that I am God") to his reflections on Christian service throughout history, Tozer highlights examples of servanthood worthy of emulation. As Tozer himself said, "We need more men who can hear the words of God and translate them into human speech." God Tells the Man Who Cares is exemplary of the work of a man who has the "Spirit's gift and special enabling to be the voice to mankind."
- Publisher


Meet the Author
A W Tozer
A. W. Tozer died in 1963, but his life and spiritual legacy continue to draw many into a deeper knowledge of God. During his lifetime, Tozer pastored several Christian and Missionary Alliance churches. Missions and the deeper life in Christ were his primary focus. He also served as editor of the Alliance Life. Tozer authored more than 40 books, (at least two of which are considered classics: The Pursuit of God and Knowledge of the Holy), a tremendous accomplishment for a man who never received a formal theological education. The presence of God was his classroom, his notebooks and tools consisted of prayer, God's Word, and the writings of early Christians and theologians, the Puritans, and great men of faith. - Publisher.