God the Father Almighty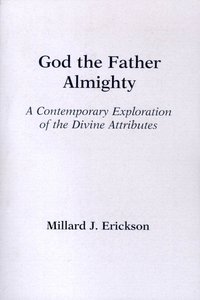 304 Pages

- Publisher In God the Father Almighty, theologian Millard Erickson develops a sturdy exposition of the doctrine of God, offering a fresh analysis of the attributes of God in light of Scripture and the contemporary scene.

- Publisher The dean of evangelical theologians responds to contemporary reformulations of the classical understanding of God and develops the biblical view of the Father.

- Publisher
You May Also Be Interested In
About "God the Father Almighty"
304 Pages
- Publisher

In God the Father Almighty, theologian Millard Erickson develops a sturdy exposition of the doctrine of God, offering a fresh analysis of the attributes of God in light of Scripture and the contemporary scene.
- Publisher

The dean of evangelical theologians responds to contemporary reformulations of the classical understanding of God and develops the biblical view of the Father.
- Publisher


Meet the Author
Millard J Erickson
Millard Erickson (Ph.D., Northwestern University) is Distinguished Professor of Theology at Western Seminary, and the author of the widely acclaimed systematics work Christian Theology along with more than 20 other books. He was professor of theology and academic dean at Bethel Seminary for many years. His most recent book is of some importance Who's Tampering with the Trinity? An Assessment of the Subordination Debate, in the light of recent attempts to place the Son in an eternally subordinate position to the Father.
Table Of Contents
:part 1 Introduction
1 The Importance Of The Doctrine Of God Today
Part 2 Challenges To The Traditional Understanding Of God
2 Pluralism
3 Process Thought
4 Free Will Theism
Part 3 The Attributes Of God
5 God And Change
6 God And Eternity
7 God And Outside Influence
8 God's Power
9 God's Knowledge
10 God's Being And Simplicity
11 God's Goodness
12 God Immanent And Transcendence
Part 4 Conclusion
13 The Practical Implications Of The Doctrine Of God