God's Economics (Ebook Shorts)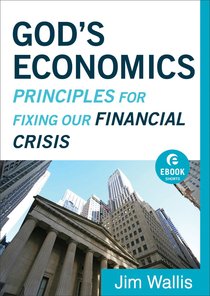 The collapse of financial systems and the resulting economic crisis have caused a growing distrust of the way things operate. Why has the global economy become so unfair, unsustainable, and unstable, with the rich getting richer and the poor getting poorer? A conversation about how the market should operate within a moral framework is needed now more than ever.

Jim Wallis shows that God requires a different kind of economy--both globally and domestically--and provides principles that should guide economic policy matters, including clarity, transparency, accountability, and protecting the common good against private greed. Our financial institutions require real reform, but so do our own economic choices, desires, and demands, for they have far-reaching consequences. Wallis explores things we can all do to help fix the financial crisis and suggests making "Ten Personal Decisions for the Common Good."

This is a selection from The (Un)Common Good: How the Gospel Brings Hope to a World Divided.

- Publisher
You May Also Be Interested In
About "God's Economics (Ebook Shorts)"
The collapse of financial systems and the resulting economic crisis have caused a growing distrust of the way things operate. Why has the global economy become so unfair, unsustainable, and unstable, with the rich getting richer and the poor getting poorer? A conversation about how the market should operate within a moral framework is needed now more than ever.

Jim Wallis shows that God requires a different kind of economy--both globally and domestically--and provides principles that should guide economic policy matters, including clarity, transparency, accountability, and protecting the common good against private greed. Our financial institutions require real reform, but so do our own economic choices, desires, and demands, for they have far-reaching consequences. Wallis explores things we can all do to help fix the financial crisis and suggests making "Ten Personal Decisions for the Common Good."

This is a selection from The (Un)Common Good: How the Gospel Brings Hope to a World Divided.
- Publisher


Meet the Author
Jim Wallis
Jim Wallis is the author of the "New York Times" bestseller "God's Politics", which electrified Americans disenchanted with how the Right had co-opted all talk about integrating religious values into our politics by offering an alternative voice. Wallis is a leading figure at the crossroads of religion and politics in America today, the author of eight books, and the founder of Sojourners, a global faith and justice network. He is a public theologian, an internationally renowned speaker and preacher, a faith-based activist, husband, and father to two young boys, and a Little League baseball cC
Table Of Contents
The Collapse Of Financial Systems And The Resulting Economic Crisis Have Caused A Growing Distrust Of The Way Things Operate. Why Has The Global Economy Become So Unfair, Unsustainable, And Unstable, With The Rich Getting Richer And The Poor Getting Poorer? A Conversation About How The Market Should Operate Within A Moral Framework Is Needed Now More Than Ever.

Jim Wallis Shows That God Requires A Different Kind Of Economy--both Globally And Domestically--and Provides Principles That Should Guide Economic Policy Matters, Including Clarity, Transparency, Accountability, And Protecting The Common Good Against Private Greed. Our Financial Institutions Require Real Reform, But So Do Our Own Economic Choices, Desires, And Demands, For They Have Far-reaching Consequences. Wallis Explores Things We Can All Do To Help Fix The Financial Crisis And Suggests Making "ten Personal Decisions For The Common Good."

This Is A Selection From the (un)common Good: How The Gospel Brings Hope To A World Divided.