God's Favorite Place on Earth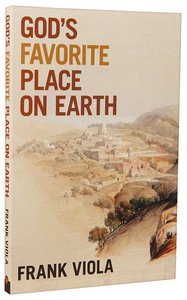 When He came to earth, Jesus Christ was rejected in every quarter in which He stepped. The Creator was rejected by His own creation. &"He came to His own and His own received Him not,&" said John.&For this reason, Jesus Christ had &"no where to lay His head.&" There was one exception, however. A little village just outside of Jerusalem named Bethany.&Bethany was the only place on earth where Jesus was completely received.

God&'s Favorite Place on Earth is a retelling of Jesus&' many visits to Bethany and a relaying of the message it holds for us today. Frank Viola presents a beautifully crafted narrative from the viewpoint of Lazarus, one of the people who lived in Bethany with his two sisters.&This incomparable story not only brings the Gospel narratives to life, but it addresses the struggle against doubt, discouragement, fear, guilt, rejection, and spiritual apathy that challenges countless Christians today. In profoundly moving prose, God&'s Favorite Place on Earth will captivate your heart with its beauty, charm, and depth. In this book y
- Publisher
You May Also Be Interested In
This item is in the following kit
About "God's Favorite Place on Earth"
When He came to earth, Jesus Christ was rejected in every quarter in which He stepped. The Creator was rejected by His own creation. &"He came to His own and His own received Him not,&" said John.&For this reason, Jesus Christ had &"no where to lay His head.&" There was one exception, however. A little village just outside of Jerusalem named Bethany.&Bethany was the only place on earth where Jesus was completely received.

God&'s Favorite Place on Earth is a retelling of Jesus&' many visits to Bethany and a relaying of the message it holds for us today. Frank Viola presents a beautifully crafted narrative from the viewpoint of Lazarus, one of the people who lived in Bethany with his two sisters.&This incomparable story not only brings the Gospel narratives to life, but it addresses the struggle against doubt, discouragement, fear, guilt, rejection, and spiritual apathy that challenges countless Christians today. In profoundly moving prose, God&'s Favorite Place on Earth will captivate your heart with its beauty, charm, and depth. In this book y
- Publisher
Meet the Author
Frank Viola
Frank Viola is an influential voice in the contemporary house church movement. For the last twenty years, he has been gathering with organic house churches in the United States. Frank has written eight revolutionary books on radical church restoration, including Gods Ultimate Passion, Rethinking the Wineskin, Who is Your Covering?, Pagan Christianity, Gathering in Homes and The Untold Story of the New Testament Church. He is a recognised expert on new trends for the church, holds conferences on the deeper Christian life, and is actively engaged in planting New Testament-styled churches. His Web site, frankviola.com, contains many free resources designed to enrich the spiritual lives of Gods people. Frank and his family live in Gainesville, Florida.
Customer Reviews For "God's Favorite Place on Earth"
Write Your Own Review
You won't be disappointed!
By Mekkie,

Jun 03 2018
This is an awesome book by a wonderful author and I'd reccommend it to anyone without hesitation! In fact I believe it is a "must have" for any Christian's personal library!!

This book has different sections in each each chapter, being:
The biblical narrative (from the Bible but filled in with extra dialogue, action and atmosphere), all accurate to first-century history;
The "Sacred Text" (Scriptures);
"Walking it out" which details how the biblical account (true story) applies to us, practically, in our lives today;
It also has "Talking points" (discussion guide) at the back - I'm hoping to use this wonderful resource to start a book club (small group) of sorts as I think it's the perfect place to start for such a study group!

I absolutely love how Viola brings the story to life and enables the reader to really put themselves in the shoes of the each character.

I also really admire how Viola manages to strike a captivating balance between Jesus' Divinity and His Humanity - I've never come across another author do this in the way Viola does. I can't wait to read "The Day I Met Jesus" now!

You won't be disappointed with this book!
{{review.title}}
By {{review.author.name}},

{{review.reviewCreatedDate | date:'MMM dd yyyy'}}

{{reviewdescription}}
{{review.text}}
---