God's Gonna Make You Laugh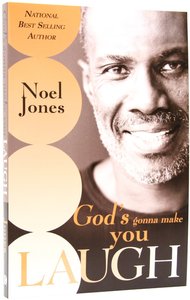 Everyone can relate to walking through very dark periods of life which seem will never end. Noel Jones is not speaking from a vantage point of one who has never suffered so his words of encouragement and promise carry weight and hope. Sorrow and adversity come, but they do not stay.This book conveys the message that suffering and endurance are preparations for the reward that will come to the one who holds on to and trusts in the faithfulness of God. That one will experience the laughter of triumph. Joy comes in the morning to those who endure.

- Publisher "When we are able to tap into the humurous side of life, the erupting laughter becomes a mighty healing stream." Many believers cannot accept that laughter is part of God's relationship with us. But it is! Watching Him fulfill His purpose for us should cause joy and, yes, laughter to well up in our hearts and overflow out of our mouths. Bishop Noel Jones shares his exciting and challenging truths about God, laughter, and promises fulfilled.

- Publisher
You May Also Be Interested In
About "God's Gonna Make You Laugh"
Everyone can relate to walking through very dark periods of life which seem will never end. Noel Jones is not speaking from a vantage point of one who has never suffered so his words of encouragement and promise carry weight and hope. Sorrow and adversity come, but they do not stay.This book conveys the message that suffering and endurance are preparations for the reward that will come to the one who holds on to and trusts in the faithfulness of God. That one will experience the laughter of triumph. Joy comes in the morning to those who endure.
- Publisher

"When we are able to tap into the humurous side of life, the erupting laughter becomes a mighty healing stream." Many believers cannot accept that laughter is part of God's relationship with us. But it is! Watching Him fulfill His purpose for us should cause joy and, yes, laughter to well up in our hearts and overflow out of our mouths. Bishop Noel Jones shares his exciting and challenging truths about God, laughter, and promises fulfilled.
- Publisher


Meet the Author
Noel Jones
Noel Jones (Pentecostal bishop), born 31 January 1950, is an American minister. He is the senior pastor of the City of Refuge Church in Gardena, California, which has about 17,000 members, and was formerly the Greater Bethany Community Church.