God's Good World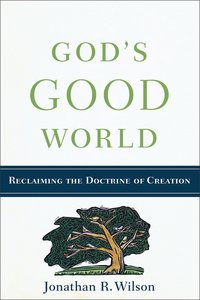 The doctrine of creation has often been neglected in Christian theology. Distinguished evangelical theologian Jonathan Wilson exposes what has been missing in current theological discourse and offers an original, constructive work on this doctrine.

The book unites creation and redemption, showing the significance of God's work of creation for understanding the good news of redemption in Jesus Christ. Wilson develops a trinitarian account of the life of the world and sets forth how to live wisely, hopefully, peaceably, joyfully, and generously in that world. He also shows how a mature doctrine of creation can help the church think practically about contemporary issues, including creation care, sexuality, technology, food and water, and more.

- Publisher
You May Also Be Interested In
About "God's Good World"
The doctrine of creation has often been neglected in Christian theology. Distinguished evangelical theologian Jonathan Wilson exposes what has been missing in current theological discourse and offers an original, constructive work on this doctrine.

The book unites creation and redemption, showing the significance of God's work of creation for understanding the good news of redemption in Jesus Christ. Wilson develops a trinitarian account of the life of the world and sets forth how to live wisely, hopefully, peaceably, joyfully, and generously in that world. He also shows how a mature doctrine of creation can help the church think practically about contemporary issues, including creation care, sexuality, technology, food and water, and more.
- Publisher


Meet the Author
J R Wilson
Jonathan R. Wilson (Ph.D., Duke University) is Professor of Religious Studies at Westmont College. He is the author/editor of several books, including Gospel Virtues: Practicing Faith, Hope and Love in Uncertain Times.
Table Of Contents
Introduction
part 1
1. Missing Creation In The Church
2. Missing Creation In The Academy
3. Missing Creation In Society
part 2
4. The Dialectic Of The Kingdom
5. One Creator: Father, Son, And Spirit
6. Remapping The Doctrine Of Creation
7. Rereading Scripture
part 3
8. Construing The World
9. Whatever Happened To Worldliness?
10. Consuming Desire
11. Stories, Practices, Prayers
12. Blessed Are The Meek
13. Being And Becoming Persons
14. Bodies
15. Worship