God's Lavish Grace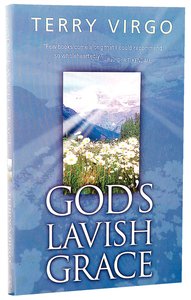 This wonderful survey of the impact and outworking of God's grace in the life of the believer will revitalise the most threadbare faith. "Few books come along that I could recommend so wholeheartedly" - Rev. Dr. R.T. Kendall.

- Publisher
You May Also Be Interested In
About "God's Lavish Grace"
This wonderful survey of the impact and outworking of God's grace in the life of the believer will revitalise the most threadbare faith. "Few books come along that I could recommend so wholeheartedly" - Rev. Dr. R.T. Kendall.
- Publisher


Meet the Author
Terry Virgo
Terry Virgo is the leader of the Newfrontiers family of charismatic evangelical churches. Born and raised in Brighton, England, he started a small church movement which has grown into an international group of churches in 29 nations. He is well known for his teaching on grace and the importance of the local church.
Table Of Contents
This Wonderful Survey Of God's Grace Will Revitalise The Most Threadbare Faith. In His Early Years As A Christian, Terry Virgo Experienced "zealous But Rather Condemnation-driven Christianity". Then, One Day, He Explains, "i Began To Grasp The Wonder Of His Glorious Grace. I Gave Myself To Fresh Study And Experienced The Complete Transformation Of My Own Christian Life. "it Has Now Been My Joy And Privilege For A Number Of Years To Proclaim The Grace Of God In Many Nations, And It Has Also Been My Delight To See Many Lives Transformed Through This Wonderful Life-changing Truth. Few Joys Can Be Compared With Discovering The Wonder Of God's Grace, And I Now Set This Material Before You, Certain That, If You Will Give Yourself To Reading With An Open Heart And A Willing Spirit, Your Whole Experience Of Christ Can Also Be Transformed.... Grace Should Lead To Outrageous Adventure."