God's Love For the Rest of Us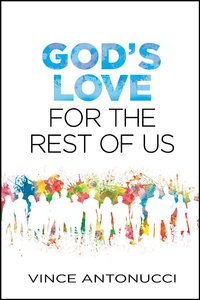 The world is filled with the walking dead. They're not fully dead. They're kind of alive-walking, talking, and drinking coffee. But their hearts have become deadened. Their souls are dry, yearning to be sparked alive by God's love. Many of us are like this: sleepwalking through life, inadvertently missing hidden invitations from God in our daily lives. God wants to love each of us back to life. The question is: Will you let Him?

- Publisher
You May Also Be Interested In
About "God's Love For the Rest of Us"
The world is filled with the walking dead. They're not fully dead. They're kind of alive-walking, talking, and drinking coffee. But their hearts have become deadened. Their souls are dry, yearning to be sparked alive by God's love. Many of us are like this: sleepwalking through life, inadvertently missing hidden invitations from God in our daily lives. God wants to love each of us back to life. The question is: Will you let Him?
- Publisher


Meet the Author
Vince Antonucci
Vince Antonucci is the founder and lead pastor of Verve, an innovative church plant for the unchurched on the Las Vegas strip. Vince's passion is creatively communicating biblical truth to help people find God, and he also serves with the Emerging Leadership Initiative (ELI). He is the author of I Became a Christian and All I Got Was This Lousy T-Shirt and Guerrilla Lovers: Changing the World with Revolutionary Compassion.