God's Outrageous Claims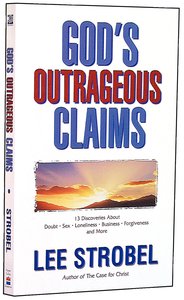 Take the Bible seriously and you'll discover that God makes some pretty outrageous claims about you - and about what he wants to do in your life. Explore 13 of God's phenomenal claims that can change the trajectory of your life. GOD'S OUTRAGEOUS CLAIMS examines important assertions that can lead you into an adventure of faith, growth, and lasting fulfillment. 223 pages, from Zondervan
You May Also Be Interested In
About "God's Outrageous Claims"
Take the Bible seriously and you'll discover that God makes some pretty outrageous claims about you - and about what he wants to do in your life. Explore 13 of God's phenomenal claims that can change the trajectory of your life. GOD'S OUTRAGEOUS CLAIMS examines important assertions that can lead you into an adventure of faith, growth, and lasting fulfillment. 223 pages, from Zondervan
- Koorong

Lee Strobel presents thirteen phenomenal claims by God that can change the entire trajectory of your life and revolutionize your attitudes, your character, and your relationships.
- Publisher

Take the Bible seriously and you'll discover that God makes some pretty amazing claims about you -- and about what he wants to do in your life. God's Outrageous Claims examines important assertions that can transform your life into an adventure of faith, growth, and lasting fulfillment. Discover how to grow in virtue, relate to others with authenticity, and make a real difference in the midst of a culture that's unraveling at the seams. God's Outrageous Claims is your guide to an exciting and challenging spiritual journey that can change you and your world profoundly.
- Publisher

Chapter One Outrageous Claim #1 There's Freedom in Forgiving Your Enemies Associated Press reporter Terry Anderson was held hostage in Lebanon for nearly seven years. He was chained to a wall in a filthy, spider-infested cell. He suffered through sickness. He endured mental torture. He longed for his family. He was ground down by the dull ache of incessant boredom. Through it all, he was given one book the Bible and as he devoured it in a search for words of hope, he came across what appeared to be outrageous words of hopeless navet: "You have heard that it was said, 'Love your neighbor and hate your enemy,' " Jesus told a crowd. "But I tell you: Love your enemies and pray for those who persecute you."1 Can you imagine how outlandish that command must have seemed to Anderson after spending 2,455 mind-numbing days in cruel captivity? Love whom? Pray for whom? Show kindness toward those who brutalized me? Exhibit compassion toward those who callously extended none to me? Is Jesus a cosmic comedian or merely a starry-eyed idealist? Finally Anderson was released on December 4, 1991. Journalists clustered around and peppered him with questions. They wanted to know what his ordeal had been like. They wanted to know his plans for the future. But then one reporter called out the question that stopped Anderson in his tracks: "Can you forgive your captors?" What an easy question to pose in the abstract; what a profound issue to ponder honestly amid the grim reality of harsh injustice. Anderson paused. Before the words of his response could come out of his mouth, the Lord's Prayer coursed through his mind: "Forgive us our sins, for we also forgive everyone who sins against us."2 Then this victim of undeserved suffering spoke. "Yes," he replied, "as a Christian, I am required to forgive no matter how hard it may be."3 Often it is hard. So hard, in fact, that Jesus' decree to love and pray for our opponents is regarded as one of the most breathtaking and gut-wrenching challenges of his entire Sermon on the Mount, a speech renowned for its outrageous claims. There was no record of any other spiritual leader ever having articulated such a clear-cut, unambiguous command for people to express compassion to those who are actively working against their best interests. Jesus has done it again! But wait. Hold on a moment. Maybe this command isn't so outlandish after all. Perhaps it's actually a prescription that benefits both those who forgive and those who are forgiven. Maybe there are a host of benefits that come with fostering an atmosphere of grace rather than an environment of maliciousness. The truth is, God's wisdom works. Choosing to forgive instead of hate can turn out to be one of our greatest blessings in disguise if we understand how this extraordinary principle works. The Rivals around Us Love my enemies? I don't have any enemies do you? Nobody has ever shoved a machine gun under my chin and herded me into a dank cell for seven years. Nobody has ever brutalized me the way Terry Anderson was abused. But even in the civilized United States, we do have enemies. They may not be armed terrorists, but to one degree or another we all have adversaries or opponents toward whom we feel animosity. He may be the owner of a competing business who's stealing your best customers, and if you're honest, you'll admit that you hate him for putting your livelihood in jeopardy. She may be a colleague who's fighting against you all too successfully for bonuses and advancement. He may be the midlevel executive who's firmly entrenched above you in the corporate structure, and you resent him because he's blocking your way to the top. If you're management, your adversary may be the union, or vice versa. Your enemy might be the people who hold opposing views on abortion or homosexuality, and you've gone beyond disagreeing with their opinions to despising them as people. It might be a teacher
- Publisher


Meet the Author
Lee Strobel
Atheist-turned-Christian, Lee Strobel is the former award-winning legal affairs editor of The Chicago Tribune. He holds a Master of Studies in Law degree, as well as a journalism degree and was a professional journalist for 14 years, winning Illinois' top honours for investigative reporting and public service journalism from United Press International.

In 1981, after a two-year investigation of the evidence for Jesus, Lee received Christ as his Saviour, and subsequently became a teaching pastor at two of America's largest churches - Willow Creek Community Church, Chicago in 1987 and Saddleback Valley Community Church, California in 2000. In 2002 he left Saddleback's staff to focus on writing.

A New York Times best-selling author of nearly 20 books, he has been described by the Washington Post as "one of the evangelical community's most popular apologists." His journey from atheism to faith has been documented in the Gold Medallion-winning books The Case for Christ, Inside the Mind of Unchurched Harry and Mary and The Case for Faith.

His other best-sellers include Surviving a Spiritual Mismatch in Marriage, which he co-authored with his wife, Leslie; God's Outrageous Claims and What Jesus Would Say? Lee also shared the prestigious ECPA Jordon Christian Book of the Year award in 2005 for a curriculum he co-authored about the movie The Passion of the Christ.

Lee is also co-author of the Becoming a Contagious Christian training curriculum, which is used around the world. And his articles have been published in a variety of magazines, including Discipleship Journal, Marriage Partnership, The Christian Research Journal, Guideposts, and Decision. He is also a contributing editor and columnist for Outreach on-line magazine.

Lee and Leslie have been married for 33 years and live in Southern California. They have a daughter, Alison, and son Kyle who is married to Kellie, both Alison and Kyle are writers.
- Koorong
Table Of Contents
Outrageous Claim #1

There's Freedom In Forgiving Your Enemies

Outrageous Claim #2

You Can Even Learn To Forgive Yourself

Outrageous Claim #3

You Can Survive The Rat Race Without Becoming A Rat

Outrageous Claim #4

You Can Make A Difference That Will Last For Eternity

Outrageous Claim #5

God Can Give You Power As Power Is Needed

Outrageous Claim #6

You Gain When You Give Yourself Away

Outrageous Claim #7

A Dose F Doubt May Strengthen Your Faith

Outrageous Claim #8

God Has A Cure For Your Secret Loneliness

Outrageous Claim #9

God's Rules On Sex Can Liberate Us

Outrageous Claim #10

Random Acts Of Kindness Aren't Enough

Outrageous Claim #11

Heaven Is More Than Wishful Thinking

Outrageous Claim #12

Jesus Is The Only Path To God

Outrageous Claim #13

Playing It Safe Is The Most Dangerous Way To Live

Notes P. 215
Customer Reviews For "God's Outrageous Claims"
Write Your Own Review
{{review.title}}
By {{review.author.name}},

{{review.reviewCreatedDate | date:'MMM dd yyyy'}}

{{reviewdescription}}
{{review.text}}
---