God's Power For Healing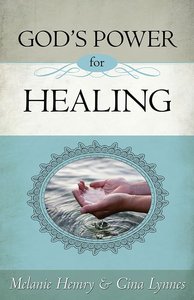 When hope and faith collide, miracles happen. But is it really possible to have hope in the midst of a hopeless situation? Can you really have faith when you're facing the impossible? Yes you can! These gripping testimonies leave no doubt about it. Unlike many uplifting but vague reports of modern-day miracles, the inspiring stories in this book include specific facts and real names of people miraculously healed of such medically impossible diseases as terminal cancer, Lou Gehrig's disease, and multiple sclerosis. They offer solid hope for those who need it and provide faith-building, scriptural instruction for anyone who wants to receive a miracle from the hand of God.

- Publisher
You May Also Be Interested In
About "God's Power For Healing"
When hope and faith collide, miracles happen. But is it really possible to have hope in the midst of a hopeless situation? Can you really have faith when you're facing the impossible? Yes you can! These gripping testimonies leave no doubt about it. Unlike many uplifting but vague reports of modern-day miracles, the inspiring stories in this book include specific facts and real names of people miraculously healed of such medically impossible diseases as terminal cancer, Lou Gehrig's disease, and multiple sclerosis. They offer solid hope for those who need it and provide faith-building, scriptural instruction for anyone who wants to receive a miracle from the hand of God.
- Publisher


Meet the Authors
Melanie Hemry
Melanie Hemry, a 1988 winner of the prestigious Guideposts Writing Contest, is a long time contributor to Guideposts magazine. A former coronary care nurse, Melanie traded in her stethoscope for a computer to become one of America's beloved story tellers. She has also authored Intensive Caring, a fast-paced book of true medical dramas. Melanie earned her bachelor degree from the University of Central Oklahoma, and her master's degree from Wagner Leadership Institute in Colorado Springs. She and her husband, Kenneth, reside in Edmond, Oklahoma, and have two daughters, Heather and Lauren.
Gina Lynnes
A former intensive care nurse, Melanie Hemry traded in her stethoscope for a computer and now writes poignant true life stories, many of which are set in intensive care. A 1988 winner of the coveted Guideposts Writing Contest, Melanie's stories have warmed the hearts of readers around the world. She holds a bachelor of science in nursing from the University of Central Oklahoma and a master's degree in Practical Ministry from Wagner Leadership Institute in Colorado Springs. She is the author of A Healing Touch. Melanie and her husband, Ken, are the parents of two grown daughters, Heather and La