God's Power to Change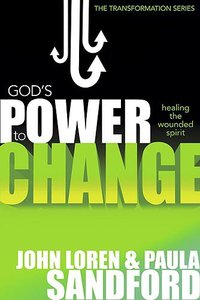 Fear of rejection. Loneliness. Depression. Grief. Isolation. What Christian hasn?t experienced these feelings at some time in life? Many wonder why their lives don?t demonstrate the victorious living that they desire, asking questions like: Why can?t I overcome this area in my life? Why is it so difficult for me to change? If I am a Christian, why do I keep falling into the same sinful pattern over and over again? In God's Power to Change?book two of four in The Transformation Series?readers will learn, in simple ways, how to reach and heal their spirits and the inner spirit of each person to whom they minister. Through the power of His Word and the Holy Spirit, we can?and will?change

- Publisher At some point, most Christians will experience feelings of rejection, depression, guilt, and grief in their lives---and wonder why! The Sandfords expose the reality of existing wounds and give simple principles for reaching, repairing, and restoring our spirits so that we can worship God in abandonment and relate to ourselves---and others---in wholeness!

- Publisher
You May Also Be Interested In
About "God's Power to Change"
Fear of rejection. Loneliness. Depression. Grief. Isolation. What Christian hasn?t experienced these feelings at some time in life? Many wonder why their lives don?t demonstrate the victorious living that they desire, asking questions like: Why can?t I overcome this area in my life? Why is it so difficult for me to change? If I am a Christian, why do I keep falling into the same sinful pattern over and over again? In God's Power to Change?book two of four in The Transformation Series?readers will learn, in simple ways, how to reach and heal their spirits and the inner spirit of each person to whom they minister. Through the power of His Word and the Holy Spirit, we can?and will?change
- Publisher

At some point, most Christians will experience feelings of rejection, depression, guilt, and grief in their lives---and wonder why! The Sandfords expose the reality of existing wounds and give simple principles for reaching, repairing, and restoring our spirits so that we can worship God in abandonment and relate to ourselves---and others---in wholeness!
- Publisher


Meet the Authors
John Loren Sandford
JOHN AND PAULA SANDFORD travel worldwide conducting seminars interdenominationally on marriage and family, inner healing and transformation, prayer, the gifts of the Holy Spirit, burden-bearing, intercession, and more. They make frequent television appearances and are active in the renewal and reconciliation movements. John and Paula live in Hayden Lake, Idaho.
Paula Sandford
Paula Sandford is cofounder of Elijah House ministries. Throughout the past fifty years, she has ministered to countless number of people in the areas of inner healing and transformation as an ordained minister and counselor. Many around the world consider her to be their personal counselor and spiritual mother. With her husband, John, she has coauthored more than twenty books. Paula and John have been married for over fifty years. They have six children and many grandchildren and great-grandchildren.