God's Supernatural Power in You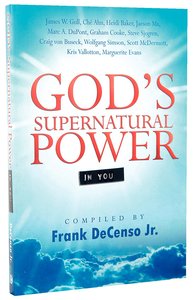 $23.99
$19.19
You Save: $4.80 (20%)
Paperback
God's Supernatural Power In You is revealed by 12 well-known Christian authors who knwo firsthand how God can change lives, communities, and nations through faith-filled believers.

As we learn from each other how to better spread the gospel, you are invited to take advantage of decades' worth of combined supernatural experiences and wisdom that will energise your spiritual and personal life.

Plug into the power God has for you by reading exciting and enlightening stories by:
James W Goll, Che Ahn, Heidi Baker, Jaeson Ma, Marc DuPont, Graham Cooke, Steve Sjogren, Craig von Buseck, Wolfgang Simson, Scott McDermott, Kris Vallotton, Marguerite Evans.

- Back cover
You May Also Be Interested In
About "God's Supernatural Power in You"
God's Supernatural Power In You is revealed by 12 well-known Christian authors who knwo firsthand how God can change lives, communities, and nations through faith-filled believers.

As we learn from each other how to better spread the gospel, you are invited to take advantage of decades' worth of combined supernatural experiences and wisdom that will energise your spiritual and personal life.

Plug into the power God has for you by reading exciting and enlightening stories by:
James W Goll, Che Ahn, Heidi Baker, Jaeson Ma, Marc DuPont, Graham Cooke, Steve Sjogren, Craig von Buseck, Wolfgang Simson, Scott McDermott, Kris Vallotton, Marguerite Evans.

- Back cover
- Koorong

Frank DeCenso JR. has been teaching the Bible and theological subjects for almost 20 years in churches, home groups, Bible studies, and online forums. He is the author of Presence Powered Living: Building a Life of Intimacy and Partnership with God. He and his wife, Denise, attend Joy Vineyard Fellowship in Virginia Beach, Virginia.
- Publisher

God's Supernatural Power In You is revealed by 12 well-known Christian authors who know firsthand how God can change lives, communities, and nations through faithfilled believers.
- Publisher


Meet the Authors
James W Goll
James W. Goll is the cofounder of Encounter Network, a ministry to the nations. He has written fifteen extensive Bible study guides and is the author or co-author of nearly a dozen books, including Kneeling on the Promises,The Coming Prophetic Revolution and Praying for Israel's Destiny. Goll is a contributing editor to Kairos magazine and speaks and ministers around the world. He and his wife, Michal Ann, live in Franklin, Tennessee.
Che Ahn
Che Ahn (D.Min., Fuller Theological Seminary) is senior pastor of Harvest Rock Church in Pasadena, California, and founder and president of Harvest International Ministry, a worldwide apostolic network of more than 5,000 churches in more than 34 nations. The author of numerous books including When Heaven Comes Down: Experiencing God's Glory in Your Life; Spirit-Led Evangelism: Reaching the Lost through Power and Love and Close Encounters Of The Divine Kind, Ahn travels and teaches extensively throughout the world.
Heidi Baker
Heidi and Rolland Baker, natives of Southern California, served as missionaries in Indonesia and Hong Kong before following God's call eight years ago to Mozambique. Facing overwhelming need, the Bakers have seen God provide miraculously for many hundreds of children through their ministry, and many more people through over five thousand churches that their mission has planted in ten countries.
Jaeson Ma
Cathy Joseph is an experienced photography writer, editor and author. She has written for many photography magazines, including Digital SLR User, and is the author of several photography books including the Outdoor Lighting series (AVA Publishing).
Marc Dupont
Marc Dupont, formerly on staff with Toronto Airport Christian Fellowship, is founder and president of Mantle of Praise Ministries, a transdenominational ministry concerned with revival and restoring the prophetic edge to the Body of Christ. Active in leadership ministry for fifteen years, Marc is married to Kim and teaches at seminars, conferences and churches in many nations. He is associate pastor of Heartland Community Church in Fort Wayne, Indiana. A
Graham Cooke
Originally from Manchester, UK, Graham Cooke now lives in California. He has been involved in Christian ministry since 1974, and is a popular conference speaker. He also acts as a consultant to churches making the transition to a higher level of vision and ministry. Graham is renowned for his training programs on intimacy with God, spiritual warfare, and moving in the prophetic. He is the author of numerous books, including Permission is Granted to Do Church Differently in the 21st Century with Gary Goodell, A Divine Confrontation, Prophecy and Responsibility, Beholding and Becoming, Towards a Powerful Inner Life, and the series Being With God, The Way Of The Warrior, and Wisdom.
Buseck Craig Von
Craig von Buseck is ministries director for CBN.com, the Webýsite of the Christian Broadcasting Network where he oversees allýonline evangelism and discipleship efforts. He also writes the popularýChurchWatch blog and has served on the faculty of the Jerry Jenkinsý"Writing for the Soul" Christian writers conference. Craig lives inýVirginia Beach, Virginia.





Kris Vallotton
Kris Vallotton is the founder and overseer of the Bethel School of Supernatural Ministry in Redding, California. He is the Senior Associate Leader at Bethel Church, and has been a part of Bill Johnson's apostolic team for over 26 years. Kris is an internationally recognized prophetic voice, and he and his wife Kathy have trained, developed, and pastored prophetic teams and supernatural schools all over the world. He is a notable speaker with a vision and passion to equip an "Elijah Generation" for the end-times harvest. He has authored numerous books including the best-selling Supernatural Ways of Royalty, as well as Developing a Supernatural Lifestyle, Basic Training for the Prophetic Ministry, and Purity.
{{review.title}}
By {{review.author.name}},

{{review.reviewCreatedDate | date:'MMM dd yyyy'}}

{{reviewdescription}}
{{review.text}}
---