Going Home (#01 in Brides Of Webster County Series)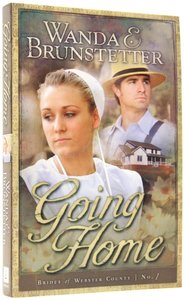 Faith ran away from her Amish home ten years ago and is now chasing an unusual dream - of being a comedian. Recently widowed, though, she wants to find a stable home for her six-year-old daughter so she can travel for work. Noah Hertzler is a bit of an oddity in his community - he enjoys cooking and often bakes desserts that he gives to others. He likes to attach a verse of Scripture to each gift, hoping to feed the recipient's soul as well as body. Can Noah's methods reach Faith's soul before it's too late? Is Faith's life just one big joke - or will she find her true identity and the love she's needed for so long? Fall in love with this inspiring love story and our entire collection of Christian romance novels from Heartsong Presents

- Publisher Faith Stutzman Andrews left her Missouri Amish community ten years ago to pursue her career as a comedian. Now widowed, Faith shows up on her parents' doorstep with her six-year-old daughter in tow. Will the lure of the English world prove too strong for Faith, or will she discover that home is where her heart is? Confirmed bachelor Noah Hertzler often bakes desserts that he gives to others, attaching verses of Scripture to each culinary delight in the hopes of soothing the soul as well as nourishing the body. Can Noah's tactics heal a shattered Faith before she runs away again? Going Home is book 1 in the The Brides of Webster County series. Other books in the series include On Her Own: Book 2, Dear to Me: Book 3, and Allison's Journey: Book 4.

- Publisher
You May Also Be Interested In
About "Going Home (#01 in Brides Of Webster County Series)"
Faith ran away from her Amish home ten years ago and is now chasing an unusual dream - of being a comedian. Recently widowed, though, she wants to find a stable home for her six-year-old daughter so she can travel for work. Noah Hertzler is a bit of an oddity in his community - he enjoys cooking and often bakes desserts that he gives to others. He likes to attach a verse of Scripture to each gift, hoping to feed the recipient's soul as well as body. Can Noah's methods reach Faith's soul before it's too late? Is Faith's life just one big joke - or will she find her true identity and the love she's needed for so long? Fall in love with this inspiring love story and our entire collection of Christian romance novels from Heartsong Presents
- Publisher

Faith Stutzman Andrews left her Missouri Amish community ten years ago to pursue her career as a comedian. Now widowed, Faith shows up on her parents' doorstep with her six-year-old daughter in tow. Will the lure of the English world prove too strong for Faith, or will she discover that home is where her heart is? Confirmed bachelor Noah Hertzler often bakes desserts that he gives to others, attaching verses of Scripture to each culinary delight in the hopes of soothing the soul as well as nourishing the body. Can Noah's tactics heal a shattered Faith before she runs away again? Going Home is book 1 in the The Brides of Webster County series. Other books in the series include On Her Own: Book 2, Dear to Me: Book 3, and Allison's Journey: Book 4.
- Publisher


Meet the Author
Wanda E Brunstetter
"New York Times" bestselling author, Wanda E. Brunstetter became fascinated with the Amish way of life when she first visited her husband's Mennonite relatives living in Pennsylvania. Wanda and her husband, Richard, live in Washington State but take every opportunity to visit Amish settlements throughout the States, where they have several Amish friends.
Other Titles In The "Brides Of Webster County" Series View All