Golden Booklet of the True Christian Life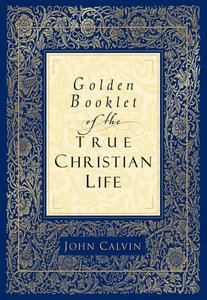 In this classic devotional, John Calvin urges readers to apply the Christian life in a balanced way to mind, heart, and hand. Rather than focusing on contemplative otherworldliness, the book stresses the importance of a devotedly active Christian life.

In style and spirit, this book is much like Augustine's Confessions, Bunyan's Pilgrim's Progress, or Thomas à Kempis's Imitation of Christ. However, its intense practicality sets it apart, making it easily accessible for any reader seeking to carry out Christian values in everyday life. Chapter themes include obedience, self-denial, the significance of the cross, and how we should live our lives today.

- Publisher
You May Also Be Interested In
About "Golden Booklet of the True Christian Life"
In this classic devotional, John Calvin urges readers to apply the Christian life in a balanced way to mind, heart, and hand. Rather than focusing on contemplative otherworldliness, the book stresses the importance of a devotedly active Christian life.

In style and spirit, this book is much like Augustine's Confessions, Bunyan's Pilgrim's Progress, or Thomas à Kempis's Imitation of Christ. However, its intense practicality sets it apart, making it easily accessible for any reader seeking to carry out Christian values in everyday life. Chapter themes include obedience, self-denial, the significance of the cross, and how we should live our lives today.
- Publisher


Meet the Author
John Calvin
John Calvin, born in 1509 and designated for the Catholic priesthood by his father, became the great French Protestant reformer famous for his doctrine of predestination and his theocratic view of the state. In Geneva, he rejected Papal authority, established a new scheme of civic and ecclesiastical governance, and created a central hub from which Reformed theology was propagated. He engaged in long bitter struggles over the independence of the Church from the State and the rules he tried to impose on Geneva as a whole. The Institutes of the Christian Religion, one of the most famous theological books ever published established Calvin's system of doctrine and Church which has shaped more minds and entered into more nations than that of any other reformer. When he died in Geneva in 1564, he left both a city and a world transformed by the impact of his ideas and beliefs. - Publisher.