Golden Filly: Collection Two (Goldern Filly Series)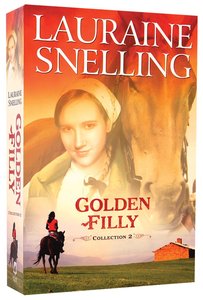 $

29.99

$

23.99
You Save: $6.00 (20%)
Paperback
Tricia Evanston has grown up riding and training horses with her father at their family's horse ranch, Runnin' On Farms. Through challenges and triumphs, Tricia learns to trust in God as she pursues her dream of racing in the big leagues.Shadow Over San MateoTricia's grief over the loss of her father drowns out any joy she might feel for winning the Triple Crown. Even racing has lost its spark, and she wonders if her gift with horses died with her father. How can she ever recover?Out of the MistAfter a summer-long losing streak, Tricia is nearly ready to quit racing altogether. She's still overwhelmed by grief, and her father's journal seems to be the only source of comfort. Will she ever find the lasting peace he knew so well?Second WindHappy to be back in Portland, Tricia is ready for a fresh start and a new racing season. But trouble at her home track makes Tricia the target of chilling threats as she campaigns to expose the culprit.Close CallTricia's successful racing career now puts her in the spotlight as a corporate spokesperson--to be featured in a television commercial! Her excitement is dampened, however, by continued threats on her life.The Winner's CircleAs she battles to recover from a tragic racing accident, Tricia wonders if winning has come at too high a price. But she soon discovers God's perfect plan for her life goes beyond anything she could ever imagine.

- Publisher Sixteen-year-old Tricia Evanston and her father share something very special: their love of horses. With Tricia as jockey and her father as trainer, the two have big dreams of winning the Triple Crown. Tricia has other pressures, too, like declining grades, a strained relationship with her mother, and the constant worry about her father's failing health. But Tricia's faith in God always gives her the strength to push her limits. Collection Two includes Shadow Over San Mateo, Out of the Mist, Second Win, Close Call, and The Winner's Circle.

- Publisher
You May Also Be Interested In
About "Golden Filly: Collection Two (Goldern Filly Series)"
Tricia Evanston has grown up riding and training horses with her father at their family's horse ranch, Runnin' On Farms. Through challenges and triumphs, Tricia learns to trust in God as she pursues her dream of racing in the big leagues.Shadow Over San MateoTricia's grief over the loss of her father drowns out any joy she might feel for winning the Triple Crown. Even racing has lost its spark, and she wonders if her gift with horses died with her father. How can she ever recover?Out of the MistAfter a summer-long losing streak, Tricia is nearly ready to quit racing altogether. She's still overwhelmed by grief, and her father's journal seems to be the only source of comfort. Will she ever find the lasting peace he knew so well?Second WindHappy to be back in Portland, Tricia is ready for a fresh start and a new racing season. But trouble at her home track makes Tricia the target of chilling threats as she campaigns to expose the culprit.Close CallTricia's successful racing career now puts her in the spotlight as a corporate spokesperson--to be featured in a television commercial! Her excitement is dampened, however, by continued threats on her life.The Winner's CircleAs she battles to recover from a tragic racing accident, Tricia wonders if winning has come at too high a price. But she soon discovers God's perfect plan for her life goes beyond anything she could ever imagine.
- Publisher

Sixteen-year-old Tricia Evanston and her father share something very special: their love of horses. With Tricia as jockey and her father as trainer, the two have big dreams of winning the Triple Crown. Tricia has other pressures, too, like declining grades, a strained relationship with her mother, and the constant worry about her father's failing health. But Tricia's faith in God always gives her the strength to push her limits. Collection Two includes Shadow Over San Mateo, Out of the Mist, Second Win, Close Call, and The Winner's Circle.
- Publisher


Meet the Author
Lauraine Snelling
Lauraine Snelling is an award-winning author of over 50 books including The Healing Quilt, The Way of Women, and Saturday Morning. The recipient of the Silver Angel Award and a Romance Writers of America Golden Heart, she also writes for a wide range of magazines and teaches at writers' conferences across the country. She and her husband make their home in Tehachapi, California.
-Publisher.


{{review.title}}
By {{review.author.name}},

{{review.reviewCreatedDate | date:'MMM dd yyyy'}}

{{reviewdescription}}
{{review.text}}
---
Other Titles In The "Goldern Filly" Series