Good Things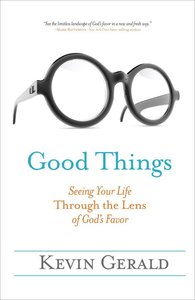 Take a fresh look around you with eyes that cut through the daily distortions and see the undeniable and extravagant goodness of God.


There are certain messages today, both outside and inside the church, that have tainted the true message of God's favor. The reality is God isn't obligated to provide good things for us-but He wants to! This is your opportunity to adopt a favor-minded mentality and realize that God's favor, like His grace, is unearned, limitless, and never-ending. And, it's for us!

In Good Things, Kevin Gerald invites you to become a good finder.

This book will equip you to:
● Discover that the goodness of God exceeds the pain of life's hardship.
● Know how to keep your mind on God's favor not your failure.
● Recognize that Grace and Favor are so intertwined you can't separate them.
● Apply seven favor dynamics that will help you overcome relationship barriers.
● See what you are certain to overlook until your eyes are trained to see it.

It's time you move forward in confidence, knowing that God is for you. He is always seeking to give you good things, and His favor is forever!


From the Trade Paperback edition.

- Publisher
You May Also Be Interested In
About "Good Things"
Take a fresh look around you with eyes that cut through the daily distortions and see the undeniable and extravagant goodness of God.


There are certain messages today, both outside and inside the church, that have tainted the true message of God's favor. The reality is God isn't obligated to provide good things for us-but He wants to! This is your opportunity to adopt a favor-minded mentality and realize that God's favor, like His grace, is unearned, limitless, and never-ending. And, it's for us!

In Good Things, Kevin Gerald invites you to become a good finder.

This book will equip you to:
● Discover that the goodness of God exceeds the pain of life's hardship.
● Know how to keep your mind on God's favor not your failure.
● Recognize that Grace and Favor are so intertwined you can't separate them.
● Apply seven favor dynamics that will help you overcome relationship barriers.
● See what you are certain to overlook until your eyes are trained to see it.

It's time you move forward in confidence, knowing that God is for you. He is always seeking to give you good things, and His favor is forever!


From the Trade Paperback edition.
- Publisher


Meet the Author
Kevin Gerald
KEVIN GERALD founded and is now lead pastor at Champions Centre, Tacoma and Bellevue, Washington, a non-denominational church and one of the largest churches in the Northwest. He has served as President of Integrity Leadership Ministries and sits on leadership boards at several other influential mega-churches in America. His speaking opportunities include major conferences,
events, and church platforms throughout the world. Kevin is known for a ministry that imparts practical Biblical principles that equip people to live successful Christian lives. Kevin and his wife, Sheila, and family live in the Tacoma area.