Gospel and Spirit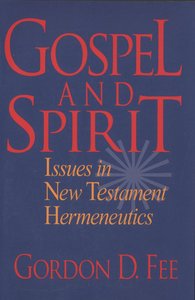 For those who believe the Scriptures are the inspired word of God with a message relevant for living today, nothing is more crucial than understanding sound principles of interpretation. Disagreement arises when people and groups differ over how one gets at that message and what that message is. In this collection of essays and lectures, Dr. Gordon Fee offers hermeneutical insights that will more effectively allow the New Testament to speak on its own terms to our situation today.

This is not a collection of subjective, theoretical essays on the science of interpretation; rather, these essays target issues of practical--and sometimes critical--concern to Evangelicals, Pentecostals, and anyone interested in letting the Bible speak to today's situation. Fee brings to the task what he himself advocates: common sense and dedication to Scripture. Readers already familiar with some of these essays, like "Hermeneutics and Common Sense: An Exploratory Essay on the Hermeneutics of the Epistles," will welcome its reappearance. Others will appreciate the challenge of essays such as "The Great Watershed--Intentionality and Particularity/Eternality: 1 Timothy 2:8-15 as a Test Case"--an essay defending the role of women in ministry--or "Hermeneutics and Historical Precedent--A Major Issue in Pentecostal Hermeneutics." Anyone wanting to wrestle with key issues in New Testament interpretation will want to read this book.

- Publisher
You May Also Be Interested In
About "Gospel and Spirit"
For those who believe the Scriptures are the inspired word of God with a message relevant for living today, nothing is more crucial than understanding sound principles of interpretation. Disagreement arises when people and groups differ over how one gets at that message and what that message is. In this collection of essays and lectures, Dr. Gordon Fee offers hermeneutical insights that will more effectively allow the New Testament to speak on its own terms to our situation today.

This is not a collection of subjective, theoretical essays on the science of interpretation; rather, these essays target issues of practical--and sometimes critical--concern to Evangelicals, Pentecostals, and anyone interested in letting the Bible speak to today's situation. Fee brings to the task what he himself advocates: common sense and dedication to Scripture. Readers already familiar with some of these essays, like "Hermeneutics and Common Sense: An Exploratory Essay on the Hermeneutics of the Epistles," will welcome its reappearance. Others will appreciate the challenge of essays such as "The Great Watershed--Intentionality and Particularity/Eternality: 1 Timothy 2:8-15 as a Test Case"--an essay defending the role of women in ministry--or "Hermeneutics and Historical Precedent--A Major Issue in Pentecostal Hermeneutics." Anyone wanting to wrestle with key issues in New Testament interpretation will want to read this book.
- Publisher


Meet the Author
Gordon D Fee
Gordon D. Fee (Ph.D., University of Southern California) is Emeritus Professor of New Testament at Regent College, Vancouver, Canada specializing in New Testament criticism.
He has authored commentaries on 1 Corinthians; 1 and 2 Thessalonians (NICNT), Philippians (IVPNTC/ NICNT); Galatians (The Pentecostal Commentary); Revelation (New Covenant Commentary) and the Pastoral Epistles (NIBC), as well as books on exegesis, hermeneutics and the Holy Spirit.
These include the bestsellers How To Read the Bible for all its Worth (with Douglas K. Stuart, Zondervan); How to Read the Bible Book by Book: A Guided Tour (Zondervan).
Dr Fee has made a major contribution to Academic Pentecostalism and Evangelicalism serving as Editor of the New International Commentary on the New Testament, and through his major academic commentaries and pioneering books God's Empowering Presence and Pauline Christology: An Exegetical-Theological Study.
Koorong -Editorial Review.